Ripple effect: France's undulating Expo pavilion leaves a mark
We revisit France's undulating market-inspired pavilion by Studio X-TU and Atelien Architecture from this year's Milan Expo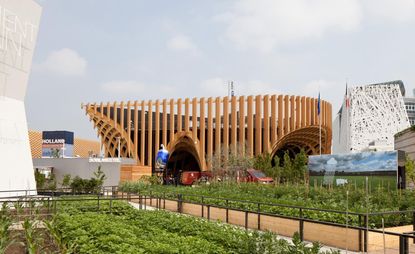 (Image credit: Andrea Bosio)
After Milan's architectural expo came to a close at the end of last month, just a handful of the many grandstanding designs have managed to etch lasting impressions in our memories. One of which is France's fluid, wooden lattice structure that was conjured by Anouk Legendre of Studio X-TU in collaboration with Atelien Architecture.
Designed to 'portray the geographic diversity of France's regions, its unique agricultural offerings and culinary traditions', the lightweight pavilion consisted of an interlocking, reusable framework of curvy glulam girders and pillars made from French spruce and larch that recall the hills and valleys of its landscape. The pavilion's low energy consumption was aided by a natural cooling and air circulation system while a series of arching entranceways of various sizes ushered visitors within the cavernous space.
Inside, the exhibition's theme, 'Feeding the Planet - Energy for Life', was addressed in the form of a 3,592 sq m covered market conceived by exhibition designer Adeline Rispal. Here, the impressive computer modelled structure became a trellis for climbing plants with edible produce displayed within its recesses. A mezzanine level housed the pavilion's offices and VIP event rooms, while upstairs a full-service restaurant called Café des Chefs served up vegetables grown onsite using hydroponics and seasoned using aromatic herbs from the terrace.
After drawing more than 2.2 million visitors and receiving a prize for best architecture and landscape by the Bureau International des Expositions, the pavilion has served its purpose, but its life is by no means over. Due to the fact that X-TU made the design fully reusable, we will be eagerly awaiting the announcement of its next incarnation in the not-so-distant future.
INFORMATION
For more information visit the French Pavilion website (opens in new tab)