Chinese history inspires a bookstore design by Tomoko Ikegai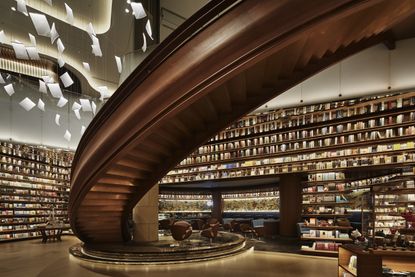 (Image credit: Photography: Nacasa&Partners)
A book store in Xian, China, designed by Tomoko Ikegai of Ikg Inc brings an adventurous twist to learning and unwinding with swirling walkways, art installations and shelves that house wonder within their widths.

Ikegai wanted to create a place for encounters between 'people, cultures, and books from around the world'. Combining the typologies of 'library' and 'gallery', the YJY Maike Centre Flagship is filled with books, nooks to sit and learn, as well as integrated displays for cultural objects. It's a place of never-ending inspiration.

The history of Xian, which was once the seat of several of China's most important dynasties, the origin of the Silk Road and also is home to the world-famous Terracotta Army, was a major inspiration for Ikegai's design. She looked to traditional Japanese and Chinese palace architecture, where sprawling plans took on ideas of urbanism on a human scale through interlinked rooms and courtyards.

At the heart of the impressive space is an open spiral staircase that also functions as a courtyard with its bright flooring and mirrored ceiling. Meanwhile upstairs, on the second level, a 50m long 'street' for books with low ceilings and dark interior aesthetic takes visitors on an intellectual journey through the store.
Today, the city has a very different identity. It is one of the main centres of China's tech industry – and the YJY Maike Centre Flagship is located in a new building at the heart of a modern development, with a Grand Hyatt hotel on the upper floors. This contemporary identity also inspired Ikegai, who sought to reflect elegant luxury through dynamism.

An impressive 10m high book shelf just inside the entryway communicates the concept of the space immediately to anyone who enters; while a lighting concept of fluttering sheets of paper and locally commissioned art reflect Chinese culture in the present.

While the books store is a public space, it holds the warmth of a home with intimate areas to spend time and socialize. The second floor is a lounge with an informal bar counter aimed at local office workers to relax during the day or after work. Ikegai is also behind the creative direction of the Tsutaya book store by Klein Dytham Architecture in Tokyo (opens in new tab) that has a similarly friendly and engaging approach to space.
INFORMATION
For more information, visit the Ikg Inc website (opens in new tab)
ADDRESS
YJY Maike Centre Flagship
No 12 Jinye Road
High Tech Zone
Xian
VIEW GOOGLE MAPS (opens in new tab)