The 2023 World Bank and IMF village in Morocco is a circular centrepiece of alliance and celebration
Moroccan traditional design inspires the 2023 World Bank and IMF village overlooking the walled city of Marrakech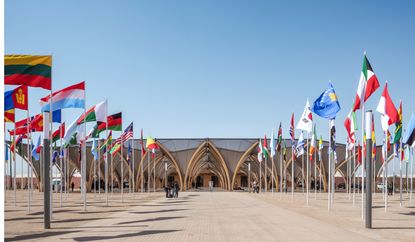 (Image credit: Luc Boegly)
The 2023 World Bank and IMF village in Morocco has been unveiled, revealing a circular structure of light canopies creating a space of alliance and celebration.
Set within a 40-hectare site adjacent to the walls of Marrakech, the structure was designed by architecture studio OUALALOU + CHOI, whose fresh thinking crafted a vision of contemporary city planning for the village. Following the same canopy design principles shown in their design for COP22 village, the architects aimed to create a facility to host some 14000 people for the duration of a week. The project envisions a second life for the buildings after the annual meeting is over, expanding the idea of what sustainable architecture could be for large event spaces.
Step inside the 2023 World Bank and IMF village in Morocco
Tradition is at the heart of this design, and architects and studio co-founders Tarik Oualalou and Linna Cho knew it was important to integrate the nomadic tradition of mouseems (annual harvest, religious, and cultural festivals) in The Moroccan Pavilion embedded in the centre of the village's Town Square; encouraging visitors to explore and learn about Moroccan history and the country's rich culture.
The pavilion was constructed from rammed earth panels attached to a steel structure. It houses a variety of exhibition spaces, as well as four Moroccan gardens inspired by the country's kasbahs.
The building itself is constructed of vibrant local red earth. The arch-shaped walkthroughs have a ceremonial essence with the wooden framework showcasing the raw inner workings of the space.
The village is united under a draping grand canopy, in keeping with authentic Moroccan design, which creates a shaded path for the main area of circulation to the event space. The canopy subtly divides the village into four neighbourhoods, to host different events. Each neighbourhood is uniquely designed and inspired by the ecology and geography of Morocco, with flora indigenous to each region planted in careful horticultural orchestration.
The delegates have a choice of 650 office spaces that are housed in wooden structures mirroring the exterior design. OUALALOU + CHOI took repurposing of the building to another level making it a space that benefits the community. Each of the 48 wooden structures will be dismantled, transported, and readapted as educational buildings in Morocco.
Receive our daily digest of inspiration, escapism and design stories from around the world direct to your inbox
Tianna Williams is the Editorial Executive at Wallpaper*. Before joining the team in 2023, Williams taught scuba diving for three years before heading into journalism. Previously she has been involved covering social media and editorial for BBC Wales, Ford UK, SurfGirl Magazine, and Parisian Vibe, while also completing an MA in Magazine Journalism at Cardiff University. Her work covers writing across varying content pillars for Wallpaper*.