The 2014 Wood Awards winners are revealed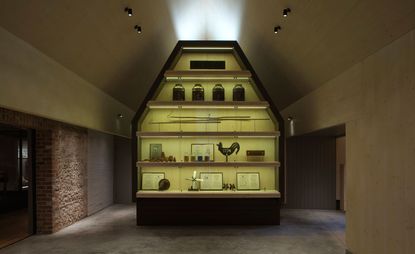 (Image credit: TBC)
The Ditchling Museum of Art + Craft by Adam Richards Architects has walked away with the flagship award at this year's UK national Wood Awards. Presented in the suitably wood-clad spectacle that is the main banqueting room at Carpenters' Hall, the Arnold Laver Gold Award went to Adam Richards for its 'mix of new-build and restoration, of ancient techniques co-existing happily with the high technology of today,' said Hugh Pearman, Sunday Times architecture critic and one of the judges. 'It adroitly uses a mixed palette of materials that suits its context admirably - and is designed in such a way as to waste practically nothing.'

Winners in other categories included the Sam Wanamaker Playhouse at Shakespeare's Globe Theatre, by McCurdy & Co, in the category of Commercial & Public Access; House No 7 in Tiree, Scotland, by Denizen Works in the Private category; the Alfriston School Swimming Pool in Beaconsfield by Duggan Morris Architects in the Structural category; and a studio in Oxford by James Wyman Architects in the Small Project category.

Makers' Eye won the Bespoke Furniture Award for its 200-piece oak furniture collection, and Fowler & Company's 'Hat Tree' took the Production Made Furniture Award. Two Judges' Special Awards went to London firm dRMM for its 'Endless Stair' installation, created for the 2013 London Design Festival, and to Jack Badger joiners for its pair of hand-carved Gothic oak doors. Here, we take you on a tour of this year's winning designs.