Tall Storeys: a new exhibition at the RIBA in London charts Hong Kong's architectural history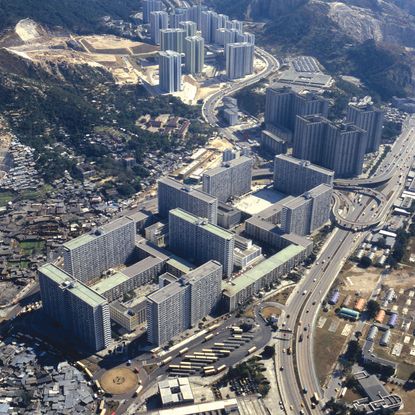 (Image credit: Courtesy of HKIA)
In Hong Kong, change is the only constant. Unprecedented economic and demographic growth in the face of land scarcity has forced the high-density development that helped create the city's distinct cityscape. Charting this story through architecture is the Hong Kong Institute of Architects' (HKIA) (opens in new tab) new exhibition, 'Tall Storeys: Evolution in Hong Kong Architecture 1965-2014', now open at the RIBA (opens in new tab) in London.

The travelling show celebrates the 50th anniversary of the HKIA's annual awards, inaugurated in 1965 to promote outstanding achievements by its members. In this show, the Institute has selected and is presenting 30 winning projects from its archives. 'Mastery of the multi-storey and mixed-use model has made our architectural expertise a valuable reference for high-density challenges around the world,' says HKIA vice president Tony Tang. Indeed, the exhibition displays some creative urban solutions.

The engaging chronological layout - of architectural photography, enriched by videos - places buildings within a broader socio-economic context. It begins in the 1960s with the seminal Choi Hung Estate, designed at the close of the Chinese Civil War to cope with increasing migration. The colourful estate – choi hung means 'rainbow' in Cantonese – reflects the sense of optimism that pervades the projects on show; and the estate itself still provides social housing today. Highlights include the Hong Kong Arts Centre, by Taoho Design, and the recent Columbarium by the HKSAR government.

The exhibition casts a strong focus on the 21st century and especially Hong Kong's flourishing relationship with international architects. A planned town based around an MTR transit station in West Kowloon is one of many new developments taking shape. The scheme is currently in progress, with Herzog & de Meuron's M+ museum scheduled for completion there in 2017.

The exhibition launched recently with a forum on high density cities and a lecture on reconnecting cultures with international speakers Rocco Yim of Hong Kong's Rocco Design Architects and Toby Denham of TFP Farrells. After its stint at the RIBA, it will travel to Hong Kong, Taiwan and New York.
ADDRESS
RIBA (opens in new tab)
66 Portland Place
London W1B 1AD