Serie Architects designs ultra-sustainable university building in Singapore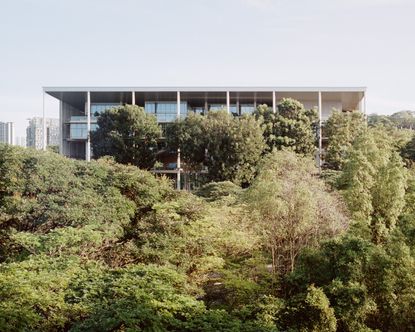 (Image credit: Rory Gardiner)
Peeking gracefully above a lush canopy of foliage near the southern coastline of Singapore, the new NUS School of Design & Environment 4 is at one with its landscape in more ways than one. Not only does its porous concrete structure appear lightweight, but so too is its environmental impact. Designed by London-based Serie Architects and Multiply with Surbana Jurong, the 8,500 sq m, six-storey building is the first NET Zero Energy building of its kind in Singapore, meaning that it generates as much, if not more energy that it consumes within its building footprint.

At their best, faculty buildings that house schools of architecture and design – apart from serving the functional needs of their occupants – strive to demonstrate and represent the pedagogical ambitions of the school itself, states Christopher Lee, principal of Serie Architects. 'From the outset, it was clear that SDE intended to use the design and the completed building as a pedagogical tool for tackling the challenges of climate change in the tropics'.

When designing the forward-thinking building, Lee reveals that his studio was in fact looking back – in particular to the construction of traditional Malay houses. To allow for cross ventilation in a humid climate, these houses were built on stilts with large over-sailing roofs that sheltered a loose accumulation of rooms below. 'Our design is a revalidation of the grammar of vernacular tropical architecture in Southeast Asia,' explains Lee.
Opportunities for environmental education are numerous here. The undulating perforated aluminium panels that moderate the harsh western and eastern sun on the school's facade are designed to be demountable, allowing students and researchers to test various façade systems on the building itself. Elsewhere, the school's south gardens are designed as a natural purification system, where the landscape improves water quality, and nearly 50 per cent of the plants selected are native species with most hailing from the southern tropics.

Thanks to the numerous terraces, landscaped balconies and informal spaces that punctuate the building's architecture, more than 50 per cent of its total area is naturally ventilated. However, when additional cooling is needed, the client worked with Transsolar, who installed a hybrid system that uses a combination of tempered air which is less energy intensive than conventional AC cooling – with ceiling fans. 'The resulting architecture is transparent, open, and comfortable, while at the same time requiring very little energy,' says Lee.

The school's open design not only facilitates natural ventilation and provides students with access to nature, but also helps to foster a collaborative learning environment – there are no boundaries between places to study, work and socialise. An open social plaza placed at the heart of the building promotes interaction and visual connectivity, while chance encounters are facilitated by a circulation system that cuts across the different studios and classrooms.

'SDE4 represents a scaffold for learning, teaching, and research designed for the 21st-century university,' comments Erik L'Heureux, the school's vice dean. 'Not only does it envision how we teach today but also paves the way we might teach in the future.'
INFORMATION
For more information visit the website (opens in new tab) of Serie Architects