In Sarah Waller's Glass House, modernist and monochrome design principles align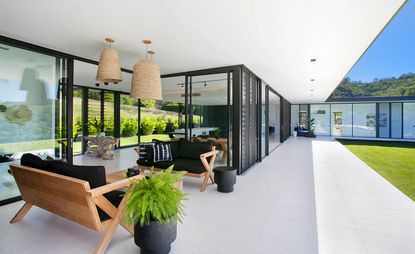 (Image credit: TBC)
After conceptualising her dream home for 20 years, architect, builder and designer Sarah Waller found the perfect plot of land to build it, in Noosa, Australia, where she relocated to ten years ago from the UK. Inspired by midcentury architecture, her Glass House follows her own minimal and monochrome design principles.

'I've always wanted to live in a glass house since I was an architectural student in London when I fell in love with the Philip Johnson Glass House and the Farnsworth House,' says Waller, who designed the light-filled single storey home to blur the boundaries between indoor and out.
Take an interactive tour of Glass House

As a licensed builder with an extensive design background she was involved in every step of the design process, which was liberating and challenging: 'Being the client and the designer is sometimes difficult, but I only had myself to disagree with!' she says.

Built almost entirely of glass around a steel and timber frame, architectural simplicity carries through to the interior design with white terrazzo floor tiling and a subtle lighting scheme of concealed task lights and feature pendants used across the home.
Central to the plan is the kitchen, which in contrary to many family homes, is an oasis of calm. Waller grouped storage into a nanotech Fenix clad black box containing extra bench space and a sink and two islands, one white marble look porcelain and one matte black laminate, create a balanced alley of space within the open plan design.

'It's very minimal and pared back but we love the clean lines. To us it is all about the view and the feeling of being in the outside with all the transparency with the glass,' says Waller. Outside she planted coconut palms and frangipanis surrounding the pool, modeled on a 1950s modernist Palm Springs style.


Living in the house for 18 months now, Waller is still very much in the honeymoon period with her home. 'We feel like we are living in a resort, everyday feels like a holiday apart from the fact that we still need to work,' she says. 'But we love what we do, so it's not too bad.'
INFORMATION
For more information, visit the Sarah Waller Design website (opens in new tab)