SALT architecture and art festival celebrates the Arctic landscape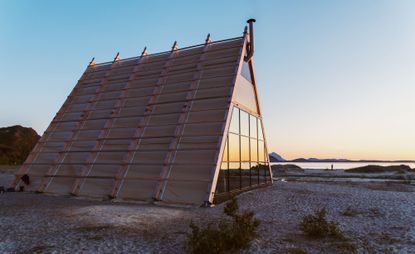 (Image credit: Gunnar Holmstad)
A remote island in the Arctic Circle may seem an unlikely destination for an architecture and art festival. But, for visitors to SALT - a nomadic event inspired by the 'movement of animals and seasonal rhythms' of the Arctic - the journey is all part of the experience. When we approached rugged Sandhornøya by boat last week, we were met by a surprising sight. Its normally deserted stretch of beach was teeming with people and a series of angular structures stood tall against the dark silhouette of the mountains. Travellers had flocked from far and wide for the festival's opening weekend, set in this extraordinarily beautiful landscape.
SALT's co-founders Erlend Mogard-Larsen and curator Helga-Marie Nordby spent two years exploring Norway's northern regions, before they found this wild stretch of beach. Here, they invited Norwegian practice Rintala Eggertsson Architects to create three structures. These would act as the frameworks for a year-long programme of art projects, concerts, plays, readings and culinary experiences.
Rintala Eggertsson Architects drew inspiration from fiskehjell (ancient fish racks, used for drying cod) for their 'Arctic pyramids'. Says Mogard-Larsen, 'It's hard to compete with the nature. [The architects'] expression reminds us of our role in the landscape, and introduces something new and relevant into this epic scene.'
Visitors move between these structures to experience film, sample local seasonal food and beer and enjoy the world's largest sauna. For our first night on the island, chef Svein Kristian Malin rustled up a three-course feast, including smoked whale meat, reindeer stew and cheese from a farm on the nearby island.
The most impressive of Rintala Eggertsson's structures is the landscape for Chinese artist Yang Fudong's new site-specific film installation. Fudong has created eight films, screened on box-like structures. His hypnotic works eschew sound, instead using landscape to evoke a tale. 'I think about how to tell a narrative by using not people speaking so much, but how the wind tells a narrative, or how trees tell a narrative,' he says. 'It's a feeling of yesterday, but it's actually tomorrow.' Fudong explores ancient traditions, bringing them into the present. Adds Nordby: 'There is something similar in the way he is thinking about his filmmaking and the way we're thinking about this project.'
Nordby doesn't know how long Rintala Eggertsson's structures - which touch lightly on the landscape and can be easily transported to new locations - will survive the extreme storms during the winter months of their island residency. But that is part of the point. Their creations are a reminder of the daily battle against the elements that the 400 inhabitants of Sandhornøya face.

Alongside Rintala Eggertsson's designs are a series of tent-like volumes, conceived by local artist and architect Joar Nango - a member of the indigenous Sami people - in which visitors can stay. Based on Sami architectural practices, each 'Njalla' has a glass roof and is built on wooden skis, to allow the inhabitant to pull their lodging around the beach to find the perfect spot from which to experience the midnight sun or northern lights.

Mogard-Larsen and Nordby have also commissioned international architectural students to create three additional wood structures, siida, which sit on the furthest point of the beach and can also accommodate visitors to the festival. Or, they can sleep like we did on our final evening, on reindeer mattresses beneath the stars. Right on cue, the Aurora Borealis put on a dazzling display across the sky.

SALT will remain in situ until 6 September 2015, with the second part of the year's programme of performances, art installations and discussions raising questions about the effects of climate change and the exploitation of the region's resources. 'Few people are fully engaged with these important topics, so we are looking to approach it differently, informing them through visualisation and experience,' says Nordby. When its sojourn on Sandhornøya is over, the nomadic festival will continue on its eight-year journey across the northernmost parts of our planet, stopping off in regions like Greenland, Iceland, the Faroe Islands and Alaska.
Receive our daily digest of inspiration, escapism and design stories from around the world direct to your inbox