Like a stone: Czech architects A69 build family home in a former quarry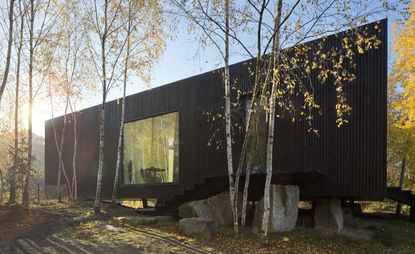 (Image credit: Tomáš Rasl)
'This project was a real reward for us,' begins Prokop Tomásek, one of the three founders of Czech prolific architecture firm a69. 'We have run our office for 22 years and few projects were as pleasant to work on as this house.'

The Prague-based studio made its name through with a number of progressive – even at times unorthodox – residential designs, which comes as no surprise when once considers the venue of their latest venture: a former granite quarry in central Bohemia.

Sat on the edge of a rock above a small pond in a verdant area, the house was originally commissioned as a family holiday retreat, but the beauty of the landscape and the final product impressed the client's family so that they decided to make it their permanent home. They now live in the lush forest, growing their own vegetable in a nearby greenhouse and regularly inviting guests for camping trips and hosting local fishermen as they try their luck in the pond.

The building is simple; a fairly straightforward black, wooden box. 'The house sits on 16 big dolmen-like granite stones we have found in the quarry and seems to levitate on the edge of the hill,' says the architect. The steel structure is covered by a wooden perforated grill made of standard spruce laths creating large window openings on the each side of the house. The modest timber facade contrasts the more fluid, white interior.

Three curved plasterboard walls divide up the space creating a flowing, relatively open plan interior. Big windows direct the eye out onto the landscape. 'We designed the interior as an amorphous space with the possibility to admire the natural surroundings from different angles. We chose white as a neutral background for the ever-changing views of the colourful landscape,' says Tomásek.

This visual connection between inside and outside is highlighted in the lounge, where a sunken glossy concrete floor is furnished with just a few pieces of furniture and a built-in kitchen. At the same time, bedrooms and secondary service areas are discretely tucked away behind the walls on the property's edges.
INFORMATION
For more information visit the A69 website
Photography: Tomáš Rasl