Renzo Piano's extension to the Gardner, Boston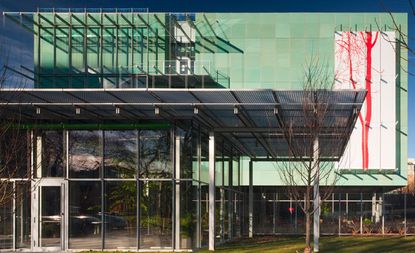 (Image credit: Renzo Piano)
One can imagine the response of the Bostonians who visited Fenway Court, as the Isabella Stewart Gardner Museum (opens in new tab) was originally called, when it opened in 1903. Gardner, an arts patron and collector of extravagantly independent sensibility, installed the incomparable art collection she'd gathered with her late husband in a 57,000 sq ft replica of a 15th-century Venetian palazzo, its three floors of galleries surrounding a landscaped, antiquity-filled courtyard, all of it covered by a glass roof floating some 70 ft above.
Even at a remove of 109 years, the place remains both transfixing and transporting - what the museum's director, Anne Hawley, rightly calls 'a gesamtkunstwerk (opens in new tab).'
Alas, over the ensuing century, the discrete perfection of Gardner's vision, in a kind of reverse Pygmalion scenario, was laden with a multitude of quotidian burdens - everything from visitor amenities to back-of-house essentials to community education and music activities.
'The palace was built to create wonder, and these things put it in danger,' declares Renzo Piano - a peril relieved by the architect's just-opened, 70,000 sq ft new wing. Set fifty feet to the rear of the historic building, the extension serves, says Hawley, as 'an extraordinarily elegant workshop' that absorbs the palace's excess program and leaves it 'free to be itself again.'
Piano's glassy, L-shaped construction features a new entrance lobby, connected to a long greenhouse, that looks out over an adjacent park; and, behind the palace, a pair of three-storey-high volumes encased in patinated copper, sitting atop a transparent ground floor and separated by a soaring stair tower with a glazed façade.
One of the copper-clad boxes contains a 36 ft high contemporary art gallery - 'Gardner was a lady about contemporary as well as classic art,' Piano observes - while the other holds a concert hall, which continues a tradition of musical performance.
Perhaps the trickiest element to pull off was the connection between old and new: the historic museum's entry procession, from a tight vestibule into the interior atrium, was much beloved. Piano's 'umbilical cord,' a glass passageway leading from the new stair tower into a similarly cloistered space at the atrium's rear, preserves the jolt of the experience.
The architect's penchant for transparency serves the project in multiple ways. By opening classrooms, garden sheds, and other functional spaces to scrutiny, says Hawley, 'the addition reflects the museum at work - a place where creativity is abounding.' It maintains the palace as what Piano calls 'an object of desire' by optimizing its visibility. Not least, Piano's layered, glass-walled spaces, he says, 'announce the civic function of a museum - "we talk to the city".'
If in most respects the new wing contrasts with the original, Calderwood Hall, the 300-seat concert venue effectively recapitulates the Gardner's hermetic intimacy (previously, concerts were given in the museum's tapestry room, which has been restored). Modeled in part on Teatro Caio Melisso in Spoleto (opens in new tab), the exquisite chamber offers three tiers and floor seating, surrounding a central performance area, and sound (by acoustician Yasuhisa Toyota) at once crisp and warm. 'For the Gardner, we must create magic,' said Piano at the project's commencement. In Calderwood most of all, he's cast a spell.
ADDRESSVIEW GOOGLE MAPS (opens in new tab)
280 The Fenway
Boston, MA 02115