'Renzo Piano: The Art of Making Buildings' opens at London's Royal Academy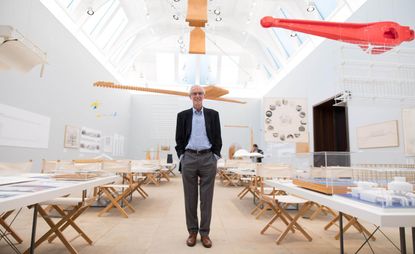 (Image credit: David Parry / Royal Academy of Arts)
'As an architect you spend your life fighting against the force of gravity. It is the most stubborn force of nature.' Renzo Piano's reflections on his eternal struggle to achieve structural weightlessness are captured in a film by Thomas Riedelsheimer, specially commissioned for the Royal Academy's new exhibition 'Renzo Piano: The Art of Making Buildings'.

As if responding directly to Piano's musings, the Academy's gallery spaces have been filled with an array of soaring architectural models and design elements, suspended from the ceiling like a collection of prototype flying machines. The largest spans the entire length of one gallery, a bright red model representing one of the principal trusses of the main terminal building at Kansai airport in Osaka, Japan.
The airborne exhibits respond to the work laid out below, grouped into detailed case studies of 16 of Piano's most significant past and ongoing projects, including the new Academy Museum of Motion Pictures, currently under construction in Los Angeles.

Each case study features an array of volumetric and massing studies, sketches, and concept models, such as those of the Whitney Museum of American Art in New York, colour coded to match the programme of functions of the building, collectively demonstrating the progression of each project towards the final design.

Other exhibits drawn from the Renzo Piano Building Works (RPBW) archives offer rare insights into the complexities of building to such scale and ambition. The evaluation reports by the Kansai Airport competition jury, complete with hand written notes by Piano in his trademark green pen, are offered alongside the letter from the Office of the Deputy Prime Minister that gave approval for The Shard in London following the public enquiry of 2003.
At the centrepiece of the exhibition is The Island, an imaginary model specially designed for the show by RPBW that brings together 102 past and current projects into a complete Renzo Piano landscape. The model is surrounded by a series of black and white images by Gianni Berengo Gardin, a long-term friend and collaborator of Piano.

Gardin's images capture a range of intimate moments from the architect's life and career and bring, along with Riedelsheimer's film, a human face to the series of grand civic gestures represented elsewhere. With Piano's attentions now turning to assist his native Genoa after the recent tragic events, the exhibition readily demonstrates the Italian's ability to achieve remarkable architectural forms despite the political and economic complexities that face the modern architect.
See our preview of 'Renzo Piano: The Art of Making Buildings'
INFORMATION
'Renzo Piano: The Art of Making Buildings' is open at the Royal Academy of Arts in Lodon from the 15 September 2018 - 20 January 2019. For more information visit the RA website (opens in new tab)