Star system: Renzo Piano's highly anticipated Centro Botín completes in Santander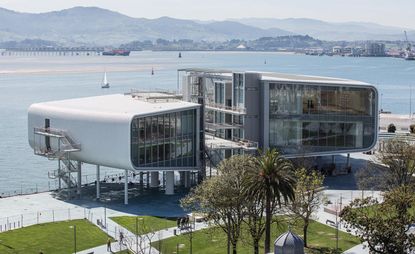 (Image credit: Belén de Benito)
Pritzker Prize-winning Italian architect Renzo Piano (known for his collaboration with Richard Rogers on The Centre Georges Pompidou, and later, The Shard, and the Whitney Museum in New York, to name just a few) is soon to unveil his highly anticipated cultural building: the Centro Botín in Santander.

Remarkably, given Piano's prevalence around the world, it is the architect's first ever building in Spain, and it's hardly a humble debut: the 10,285 sq m site took six years to construct (after a three year delay) and will be a landmark on Santander's waterfront, looking out across the bay, with a raised walkway over the sea, and epic curving windows to frame the surrounding views.

Now finally complete and set to open its doors on 23 June, fans of Piano's high-tech, postmodernist style will appreciate the Centro's raised, spaceship-like building, standing on stilts, with its grey-hued metal staircases and two D-shaped blocks covered with 270,000 scintillating ceramic discs, reflecting the abundant light that shines on Spain's northern coast.
As ever, in both design and aesthetic, Piano strikes a balance between the natural environment and functionality, between industrial materials and natural qualities. The historic Pereda Gardens, in which the museum is set, for example, have been extended to double their previous size by Piano in collaboration with landscape designer Fernando Caruncho, emphasising Piano's interest in connecting spaces with the outdoors, and providing an arena for public arts, such as newly commissioned sculpture with flowing water by Cristina Iglesias.

Centro Botín is the home of the Fundación Botín, one of the country's largest collections of international contemporary art, but alongside the display of its permanent collection, a programme of special temporary exhibitions will be staged across the 2,500 sq ft at Centro Botín.

The inaugural shows look at the local past and the global present: artist Carsten Höller (who also presents his work to the Spanish public for the first time) presents a parallel with Piano's own elevated approach with Elevator Bed, a fully-equipped room with a rotating bed that visitors can book in advance to view the exhibition from a different perspective, while a major Goya exhibit offers a more static experience of 80 drawings, mining Spain's cultural history.
INFORMATION
For more information, visit the Renzo Piano Building Workshop website (opens in new tab)
Charlotte Jansen is a journalist and the author of two books on photography, Girl on Girl (2017) and Photography Now (2021). She is commissioning editor at Elephant magazine and has written on contemporary art and culture for The Guardian, the Financial Times, ELLE, the British Journal of Photography, Frieze and Artsy. Jansen is also presenter of Dior Talks podcast series, The Female Gaze.