Great glass: Rene Gonzalez's crystalline tower completes in Miami Beach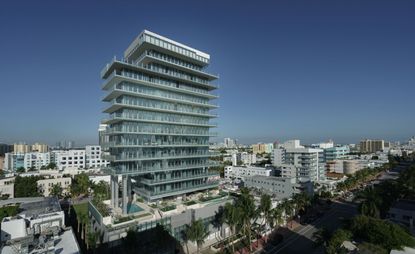 (Image credit: Michael Stavaridis / Rene Gonzalez Architect)
South of Fifth - or SoFi by its trendier moniker - is an affluent enclave on the southern tip of Miami Beach, and one of the city's priciest neighbourhoods, with luxury residential towers bound by the Atlantic Ocean to the east, the lagoon of Biscayne Bay to the west and South Pointe Park to the south. This is prime real estate, following urban regeneration over the last decade, thanks to visionary, risk-taking developers, who helped create the exclusive urban oasis that exists today.

'GLASS' by Rene Gonzalez Architect marks one of the first new residential developments to be completed in the City of Miami Beach in almost five years, a first in high-rise design for the local architect, and the last tall development permitted in South of Fifth due to zoning restrictions.

The 18-storey condominium was developed by Terra, the South Florida real estate development firm that seeks to create sustainable, design orientated communities. With commercial potential for up to 45 units, Terra opted for the 'less is more' approach, favouring 10 full-floor luxury residences with 360 degree views of its remarkable setting.

The all-glass tower, formed of perimeter glazing slotted into bold horizontal floor planes and minimalist frameless glass balustrading to the expansive wrap-around terraces, creates a playful ambiguity between inside and out. The firms philosophy is rooted in the belief that a building is inexorably linked to the natural and cultural elements of its surroundings.

'Light and ethereal, GLASS is a response to its site, context, and environment. The building dematerializes as it rises, with its exterior almost disappearing into the atmosphere and its compositional use of fritted, patterned glass,' explains Gonzalez. Internally the apartments are bright and spacious allowing the varying views to take precedence.

Residents of the sold-out tower will begin to move in later this month.
INFORMATION
For more information on Rene Gonzalez Architect visit the website (opens in new tab)
Photography: Michael Stavaridis/ courtesy Rene Gonzalez Architect