Public by Design: Exhibit Columbus 2023 opening weekend launches
Exhibit Columbus 2023 has launched, celebrating public installations of art and architecture in Indiana, USA in its inaugural weekend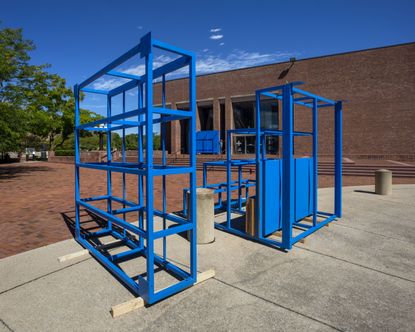 (Image credit: Courtesy of Landmark Columbus Foundation)
Wallpaper* Newsletter
Receive our daily digest of inspiration, escapism and design stories from around the world direct to your inbox
Thank you for signing up to Wallpaper. You will receive a verification email shortly.
There was a problem. Please refresh the page and try again.
Exhibit Columbus 2023, the architecture festival's fourth edition, is aptly named 'Public by Design' – and opened this past weekend (25-26 August 2023), featuring a total of 13 public art and architecture installations in and around downtown Columbus, Indiana. A range of different groups – architecture practitioners, academics, students, artists, designers and more – have created the pieces, around the festival's key pillars, which span community, education, interdisciplinarity, cities and the architecture realm.
Exhibit Columbus 2023: Public by Design
The festival's prestigious J Irwin and Xenia S Miller Prize recognises national and international practices whose work reflects the Millers' commitment to the transformative power of design within public spaces. This year's four recipients, and their respective pieces, are:
– Tatiana Bilbao Estudio of Mexico City with community curator Jason Hatton for Designed by the Public, installed at Library Plaza and the Bartholomew County Public Library
– Practice for Architecture and Urbanism (PAU) of New York City with community curator Dave Hayward's InterOculus set at The Commons
– Port of Philadelphia and Chicago with community curator Dan Mustard for their The Plot Project at Mill Race Center
– Studio Zewde of Harlem, New York City with community curator Mark Jones, who created Echoes of the Hill at Mill Race Park.
The festival also announced seven University Design Fellows, who were tasked with activating the historic core of downtown Columbus, based on recommendations from the 2021 Downtown Activation Study, developed by James Lima Planning and Development (JLP+D) and supported by the City of Columbus and a National Endowment for the Arts 'Our Town' grant.
These participants span institutions across the country – such as the University of Illinois, Syracuse University School of Architecture, and Iowa State University School of Design in Columbus – and bring together teams selected via an open-call exhibition. Here, university professors drew on their research-based practice to craft installations spread across select town sites – from Hotel Indigo to Ovation Plaza.
Cummins Parking Garage, East is the site for Machi, a piece designed by the High School Design Team, a group of students that composed a streetscape of movable chairs, tables and other furniture to enrich the open space. 'In Japanese, 街 (Machi) signifies a busy downtown area or main street,' they explained.
On the morning of Saturday 25 August, a tour of all the exhibition sites allowed residents and visitors from across the country and around the world to interact with the participants. Communication designer Chris Grimley of Signals from Boston, MA, who designed the graphic design and wayfinding system for the Public by Design installations, was also present.
Later in the day, activations featuring exhibition participants energised various installations, including a saxophone set at Side Effects and a game day at Ground Rules – inviting the crowds to take part in the action.
Columbus' icon of modernist architecture First Christian Church served at the site for the mid-afternoon programme of Curatorial Conversations, featuring the entire curatorial team of Paola Aguirre of Borderless Studio; Chris Merritt, landscape architect at Merritt Chase; Lauren M Pacheco, civic and cultural artist at Steel Studio Foundation; designer, writer and educator Bryony Roberts; Raymund Ryan, curator at large at The Heinz Architectural Center at Carnegie Museum of Art; and Holly Warren, assistant director for the Arts, Economic and Sustainable Development Department at the City of Bloomington, Indiana.
The city's past, present and future were discussed, alongside a broader debate around planning and placemaking in the 21st-century urban space.
Rock the Block, a block party and dance show held near InterOculus at the intersection of 4th Street and Washington Street, capped off the opening of the Exhibit Columbus 2023 exhibition on Saturday night.
'This exhibition shows how working together in the public realm with art and architecture allows us to achieve a purpose much greater than we can alone,' said Richard McCoy, executive director of the Landmark Columbus Foundation, the non-profit organisation behind Exhibit Columbus. 'Our curatorial team has taken a unique approach to get here, one that combines deep connections within our community with international expertise to shepherd this exhibition into existence.'
Public by Design is free and open to the public, and installations will remain in place through 26 November 2023. More events are scheduled for the remainder of the year, with information available at exhibitcolumbus.org
Receive our daily digest of inspiration, escapism and design stories from around the world direct to your inbox