Plans revealed for Brazil's Antarctic research station on King George Island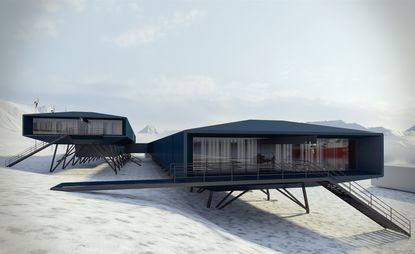 (Image credit: press)
Four years since Brazil's Comandante Ferraz Antarctic research facilities burnt to the ground on King George Island, work has begun on erecting Estúdio 41 Arquitetura's new $100 million replacement scientific centre. The structure is slated to become the hi-tech epicentre of Brazilian research in the region.

Estúdio 41 Arquitetura, who won the coveted commission through a national competition sponsored by the Brazilian Architects Institute, aimed to create a multifunctional structure that will provide shelter for researchers; a safe haven that would protect against the extreme external elements. The proposal was also chosen due to its striking design, which the jury felt represented the centre's scientific and cultural importance for the country.
The concept for the new Ferraz station started with a careful study that analysed the surrounding territory and geographical conditions. The topography of the Keller Peninsula – where the station is situated – influenced the design, which also took into account the preservation needs of the wider area's animals and plant life.
The building's series of distinct volumes are each assigned a specific function. The upper portion houses the centre's residential elements, as well as dining, living and service areas. The centre's lower portion is where scientific research takes place, accommodating in total 68 people and an impressive 18 laboratories. A volume uniting these two parts merges social and recreational uses, boasting a wide range of facilities such as an auditorium, meeting room and a secondary set of living quarters.
INFORMATION
For more information, visit Estúdio 41 Arquitetura's website