Paradigm shift: the MAAT's inaugural exhibition debates a new world order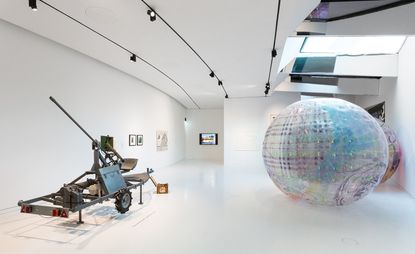 (Image credit: Bruno Lopes)
Lisbon's new Museum of Art, Architecture and Technology (MAAT) seems like ideal location to consider the current mood of urban civilisation. The smooth, naturalistic yet futuristic building designed by Amanda Levete rises up out of the bank of the river Tagus, in a city which, even after the crippling nationwide financial crisis of 2010, received Wallpaper's Best City award for 2017. The inaugural exhibition titled 'Utopia/Dystopia: A paradigm shift in art and architecture' – sparked by the 500th anniversary of Thomas More's seminal text Utopia – presents over 60 works by artist and architects who examine shifts in political structures through physical manifestations of constructed and envisioned urban designs.

Curators Pedro Gadanho, João Laia and Susana Ventura, whose backgrounds vary across architectural and artistic expertise, do not distinguish in the exhibition between artists and architects, presenting conceptual ideas across the two disciplines side by side, and selecting practitioners with diverse background. To name a few from the group show: Didier Faustino, Kader Attia, Tacita Dean, Cao Fei, OMA, and Wolfgang Tillmans.

The exhibition charts the gathering skepticism of idealistic modernist designs of the late 20th century, moving towards the contemporary obsession with dystopia, fuelled by science fiction and the internet, which has turned into somewhat of a dark fantasy, directly associated with post-internet culture, digital and nomadic values of freedom, a free (and black) market, spiraling lawlessness and statelessness. These concepts present interesting alternatives to post-capitalist, nationalist and neo-facist structures that are gaining power, yet losing control, across the globe today.
While showing a gradual progression from modern to contemporary movements, the exhibition communicates across sections, curated in a 'layered chaos', spatially combining drawings, photography, sound and video. 'The layered configuration echoes the conceptual layered universe we are trying to explore,' says Laia. Described by MAAT director and curator Gadanho as a 'media happy' show, the exhibition journey integrates smaller spaces for video works fluidly through the gallery, which flows around the central oval-shaped arena for performance art – where Mexican artist Héctor Zamora's incredible piece Order and Progress played out on the night of the public opening.

Defining the period of modernity from the end of Enlightenment to Hiroshima, the curators present optimistic and pessimistic approaches to modernist urban plans, real and imagined. 'How ideal can a city be? And how do you create a city that is perfect?' questioned Gadanho to himself when curating the show.

Imagining the future, Alexander Brodsky & Ilya Utkin's etching on paper of the urban landscape of 2001, titled Wandering Turtle, made in 1955, shows endlessly multiplying Manhattan-style blocks, while Archizoom's 'No stop city' a model or sculpture made between 1969-2001 shows an ever-expanding suburban town. These saturated vistas with their endlessly multiplying buildings echo the over-stimulated urban ecology that we begin to face. In Michael MacGarry's work Luanda, Angola, 2019 (100 Suns series), 2010, an archival inkjet print on cotton paper, the artists envisions a Dubai-like landscape with hundreds of Burj Khalifa-style towers multiplying across the horizon. Instead of the blocky skyscrapers or the detached houses for families of four, collective cities have been replaced by the ambitions of the individual.

Now, buildings act alone in competition for daylight, views and the title of the tallest and soon, darkness will prevail for the best of us. Inci Eviner's video installation Nursing Modern Fall, 2012, plays out during this realisation – here humans are working out, training and building, all set on a globe map on which Auschwitz is marked. Other works in the exhibition present dystopia as a form of beauty, or a sickly fantasy at least. Tabor Robak's HD video work is a rolling screen-saver style video evolving slowly through futuristic neon skyscrapers – a four-dimensional style of pop art and an immersive sphere of amusement that echoes an endless digital scroll.
The end of the exhibition takes a post-internet turn, and how could it not. The internet is the space where this fascination with dystopia plays out. Curators of the previous, post-internet heavy Berlin Biennale, DIS Collective are included in the exhibition along with other BB9 featured artists including åyr, Jonas Staal and Ryan Trecartin who present the communities who exist in these dystopian worlds. Mixing up a sour cocktail of human traits/flaws and technological hybridity, the artists in this section of the exhibition are an acquired taste. While they are products of capitalism, they revel in the destruction of it, looking to create, like the digital landscape, a free zone where people are free to destruct as much as they construct.

Nasan Tur's work, Comunism, Capihtalism, Sociallism, 2016, misspells political ideologies in neon lights, referencing our current crisis of terminology to describe the political state of affairs. 'The problem is that now these political concatenations have lost their potency and their effectiveness' writes Franco Berardi in his catalogue essay for the exhibition, 'Futurability Map'. We are in freefall. And while the diagnoses of depression and anxiety are rising across the world, especially in young people – and how soon will it be until narcissism epidemic eschews – perhaps, like this post-internet generation of artists, we too need to learn to delight in instability, if we have the privilege to remain critical that is, to understand the freedom that it gives us.

Looking at the works of Yona Friedman, founder of the 'mobile architecture' theory which argued for the idea of a non-community, and Jonas Staal, who examines ideas of co-existence in specific urban situations and the idea of democracy without a state, featured towards the end of the show, the viewer does not give up hope altogether, yet leaves with a better understanding of how utopia and dystopia could collaborate, and how idealism and realism might too.
INFORMATION
The exhibition 'Utopia/Dystopia: A Paradigm Shift' is on view until 21 August 2017. For more information visit the MAAT website (opens in new tab)
ADDRESS
MAAT
Museum of Art, Architecture and Technology
Av. Brasília, Central Tejo
1300-598
Lisbon
Portugal
VIEW GOOGLE MAPS (opens in new tab)