Lisbon Architecture Triennale 2022 offers a fresh exploration of Earth
We explore the offerings of Lisbon Architecture Triennale 2022, and its theme 'Terra'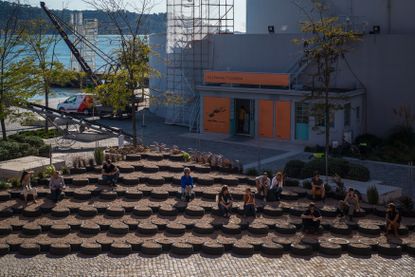 (Image credit: Sara Constanca)
'The Poetics of Reason' was the rather lofty topic of the festival's 2019 edition, but for Lisbon Architecture Triennale 2022, the two-month-long architecture event takes on a theme that is, quite literally, more down to earth: 'Terra'. Through four major exhibitions, three days' worth of conferences, and an array of independent projects chief-curated by Cristina Veríssimo and Diogo Burnay, Terra explores how we can change the grim trajectory of our home planet which, according to triennial chairman José Mateus, has 'reached a dead end that we can hardly get out of'.
'In an ideal world, this would be an age with enormous potential, except human activities have been dictated by high levels of ignorance for a long time, together with extremely high degrees of negligence and greed,' Mateus added. 'All of this is based on a belief which is irresponsible, to say the least: that the Earth absorbs everything.'
Visitors are immediately confronted with the consequences of their environmental wrongdoings at the 'Retroactive' exhibition in Lisbon's MAAT museum, which begins by projecting video footage of engorged landfills, extreme weather incidents and overcrowded infrastructures in what's termed 'broken cities' across the globe.
The projects presented throughout the following rooms do, however, prove that steps are being taken to bolster urban habitats and their outskirts; this includes Tapis Rouge by Eva Studio, a community amphitheatre built at the heart of Haiti's Carrefour-Feuilles suburb that – thanks to an underground dry well – doubles up as a flood mitigation system. There's also Estudio Teddy Cruz and Fonna Forman's El Santuario Frontera project, which sees metal storage racks repurposed to create the framework of housing for refugees at the Tijuana-San Diego border.
The 'Cycles' exhibition over at Lisbon's Garagem Sul cultural centre offers a look at the different ways architects and other creatives are making use of recovered construction materials, from concrete to cork – nearly 140 cubic metres of the latter (which was once used for building insulation) sits in a towering pile at the rear of the main gallery space as part of an installation titled Falca. It's the work of conceptual artist Lara Almarcegui, who compels audiences to consider the startling volume of materials required to realise our sprawling built environment.
Visitors will also no doubt be inspired by the projects shown at the 'Multiplicity' exhibition in Lisbon's National Museum of Contemporary Art; from a community fridge in New York, to friendship benches in Zimbabwe, and a modular reading pavilion in Mumbai, it's clear that even smaller-scale projects are capable of solving major social and eco challenges.
While a majority of what's showcased in the 2022 Lisbon Triennial acts as a rousing call to action in the fight against climate change, some of the works presented are interestingly more of a call-to-withdraw. In Culturgest's 'Visionaries' exhibition, for example, Ensamble Studio makes a case for off-grid living with Ca'n Terra House – a family dwelling that occupies a cave-like Menorcan sandstone quarry. Then over at the independent projects show in Lisbon's Palácio Sinel de Cordes, Plan B Architecture & Urbanism's 'Terra Infirma – Terra Incognita' project proposes establishing universal no-fly zones and points of inaccessibility.
In the process, humans could 'retire their status as a truly global species' and allow once-unknown parts of the Earth to recover from our harmful practices – and with the unquestionable urgency of the climate crisis, perhaps we should indeed ready ourselves to retreat.
INFORMATION
Receive our daily digest of inspiration, escapism and design stories from around the world direct to your inbox