Norman Foster co-curates retrospective of Italian modernist master Osvaldo Borsani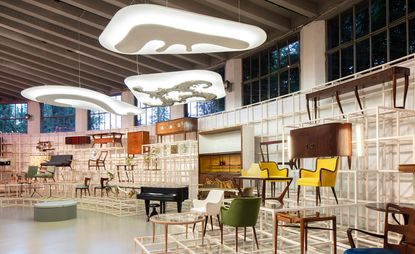 (Image credit: TBC)
He may have died over 30 years ago, but the Italian modernist architect Osvaldo Borsani is definitely having a moment. In recent years his furniture has become highly collectable and also gained favour with the likes of architect Peter Marino, who has utilised classic pieces in his luxury store interiors. During the recent Salone del Mobile in Milan his elegant villa in Varedo was opened up for public tours by his daughter and grandson, Valeria Borsani and Tommaso Fantoni respectively, under the guidance of Ambra Medda.
Such an intimate introduction to Borsani's creativity and technical innovation was an enticing prelude to this year's main event though – 'Osvaldo Borsani', a comprehensive retrospective which celebrates the genius of the architect, designer and founder of the Tecno furniture brand which has just opened at the Triennale di Milano. Fantoni, his grandson co-curated the exhibition with fellow architect Norman Foster, who had worked with Borsani and Tecno on several important projects including the Nomos table and various furniture solutions for airport and museum projects.
Foster and Fantoni have created a monumental wooden grid-like structure that runs around the entire perimeter of the exhibition, inside which 300 objects, works of art and reconstructions of rooms are displayed in chronological order. The structure is reminiscent of the 'archi-sculptures' of Sol LeWitt and perfectly illustrates Borsani's key values such as moderation, innovation and beauty.
Drawings, documents and photographs of each of the projects are displayed on the opposite wall telling the story of the creative process of each piece selected. 'The central theme of a timeline will enable the visitor to walk through the different periods in the work of this not so well-known but significant design pioneer and along the way find insights into the wider process of design,' explains Foster.
Also on show are pieces made in collaboration with Borsani's artist friends such as Fontana, Crippa, Castellani and Pomodoro, plus the designs of colleagues that he particularly valued and repeatedly involved in his projects such as De Carli, Ponti, Day and Magistretti. The catalogue, curated by Giampiero Bosoni and published by Skira, brings together the indepth research involved in preparing the exhibition, including the studying of archives held at his former home. Such an all-encompassing survey should guarantee Borsani's legacy for sometime to come.
INFORMATION
'Osvaldo Borsani' is on view at the Triennale di Milano Exhibition until 15 September 2018.
For more information visit the website
ADDRESS
Triennale di Milano
Viale Alemagna 6
20121 Milano