On the rocks: Omar Gandhi designs a new house for the Canadian countryside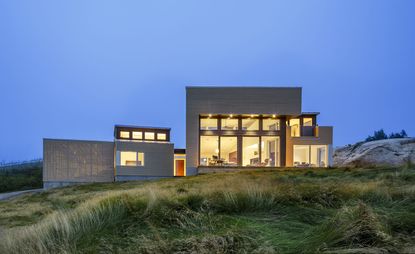 (Image credit: Doublespace)
In Nova Scotia, bold architecture tends to cluster along the water. The Atlantic Ocean, which long provided sustenance for this region of Canada, now offers a wealth of views. A new project by the Halifax architect Omar Gandhi (opens in new tab), dubbed Float House, takes another point of view, finding the sublime in a rough corner of the landscape and reflecting it back in a set of stunning sculptural forms.
The 232 sq m building is located 'off the beaten path,' Gandhi says - half a kilometre inland, in a jagged zone of glacial hills and valleys. Gandhi helped the client Dr. Melanie Kelly select the site, a hilltop clearing which is bracketed by a brawny outcrop of rock. That natural form 'is the most miraculous thing,' Gandhi recalls. 'It seemed the perfect anchor for a house.'

Where local architects often draw on the vernacular tradition of maritime wooden sheds, Gandhi's office has twisted this into an unfamiliar shape: the house is a string of four wood-clad forms, but they have been rotated and eroded at the top edges to form jagged, boulder-like volumes. (The word 'float' is a geological term for loose pieces of rock.) At one end are Dr. Kelly's living, dining and bedroom areas; in the middle, two guest bedrooms which houses visits from her grown children; and at the other end, a garage wrapped in a screen of pale spruce siding. This wood, black aluminum windows and a grey metal roof complete the material palette, which blends closely with the topography.

And yet the house - built inexpensively by local contractors - is rich with different spatial experiences. The dining area comes within a few metres of a sheer rock face, which is revealed through large windows. Steps away, the living room looks out over a series of lakes - and the ocean, seen from an angle off in the distance.
INFORMATION
Photography: Doublespace