Olson Kundig Architects' Sol Duc Cabin in West Washington is small but perfectly formed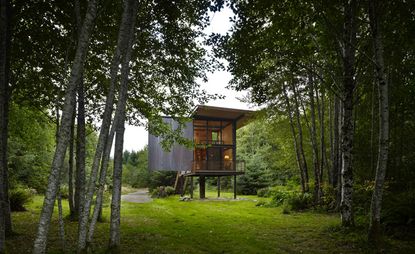 (Image credit: Olson Kundig Architects)
This unique cabin was designed for a client who travels regularly to the Olympic Peninsula to fly-fish for steelhead (also known as rainbow trout) in the Sol Duc River. Created by Tom Kundig of Seattle-based Olson Kundig Architects, the structure not only responds to its immediate natural context, but also efficiently fulfils a simple but particular program.
The Sol Duc cabin is made of steel panels that give it a hermetic, bunker-like look when shut. These aren't, however, mere aesthetic elements – they shield the structure from the region's occasional severe weather conditions, making it compact and low maintenance. To add to its 'near-indestructability', and to avoid occasional floods, the house is elevated on four steel pillars.
Built to act as a base for the couple's fishing expeditions in the area, the house features steel panels that slide open up to reveal large glass planes, providing the occupants with unimpeded views of the surrounding wilderness. In contrast to its robust exterior, the cabin's interiors are warmly clad with leftover wood. They were designed in a simple layout, where the living room and kitchen are located on the lofty lower level, and the bedroom on the mezzanine.
Olson Kundig Architects' portfolio comprises several similarly small but beautiful constructions that demonstrate the practice's expertise in creating buildings that mediate between natural and man-built environments in compelling ways. This includes previous work such as the Delta Shelter, Olson Cabin, and the Rolling Huts. As with its predecessors, Cabin Sol Duc's design is playful in the way it interacts with the surrounding nature, and clever in the manner the materials are used and re-used to fit specific purposes.
Receive our daily digest of inspiration, escapism and design stories from around the world direct to your inbox