Rising star: Bay Area welcomes opening of DS+R designed BAMPFA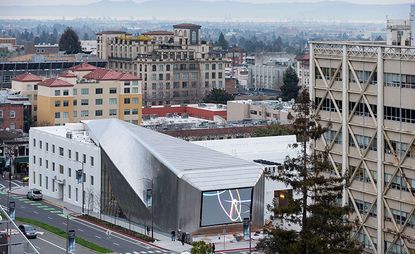 (Image credit: Courtesy UC Berkeley Art Museum and Pacific Film Archive, 2016)
City of culture and education, Berkeley is proudly inaugurating this week a stunning downtown landmark, the Diller Scofidio + Renfro designed building for its Berkeley Art Museum and Pacific Film Archive (BAMPFA). Anchored across the street from the UC campus, the shimmering white building with its steel veils and cantilevers strikes as an epic, multifaceted, yet stylishly unified 83,000 ft sq compound. It merges seamlessly the former 1939 Art Deco industrial printing plant – entirely restructured and revamped – and a brand new lateral wing, with its 232-seat state of the art movie theater.

The high ceiling volumes have been cloistered into different exhibition spaces – lounges, auditoriums, atriums and galleries – both whimsical and airy thanks to skylight and lateral bays with street views. The whole visit has been purposely turned into a poetic wandering, spiced with peekaboos, like dramatic, syncopic undercuts, or electric orange areas. Without overwhelming the fascinating opening exhibition ('Architecture of Life'), the building offers a seducing experience, from its four subterranean rooms (with a second, intimate 33-seat screening room, and an Asian art dedicated gallery) to its second floor gourmet cafe Babette: nested into a walkway, the beloved local foodie-heaven overhangs the plunging lobby, with its warm wooden bleachers and artists-project wall.

'We wanted a building that reflects the uniqueness is our dual identity, half art, half film', explained BAMPFA Director Lawrence Rinder during his inaugural remarks. Preserving the magic of the original building led the call to the NY based DS+R architects, the firm behind the High Line and Lincoln Center rehabilitations, as well as the Broad museum in LA (they are also currently in competition for the Obama Library). The brief stressed the notions of accessibility and transparency, for an engaging institution that strived to express itself as a welcoming hangout for all.

Symbolised also by the 30 foot wide outdoor LED screen (for street projections of the inside film programs), this mission was fully integrated as an architectural response in the shape of a 'permeable interface between the institution and the public'. Present at the press conference, Charles Renfro, the DS+R partner-in-charge, enumerated all the challenges – including excavating the entire existing footprint to double the floor area – to get to the resulting building, 'iconic and humble', 'completely porous'. Heralding its multimedia collections and activities, the BAMPFA is, as he summed it up, the perfect 'epitome of the 21st century museum'.
INFORMATION
Architecture of Life is on view from 31 January until 29 May. For more information, visit the website (opens in new tab)
ADDRESS
BAMPFA, 2155 Center Street, Berkeley, CA 94704
View Google Maps (opens in new tab)