Modscape's energy-efficient modular house in the New South Wales countryside
Melbourne-based architects Modscape offer an insight into the design and build process behind this modular, energy efficient weekend home assembled in just 12 weeks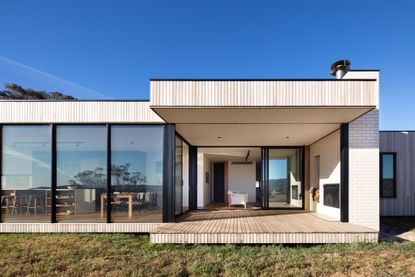 (Image credit: John Madden)
A modular home set into the pastoral countryside in Orange, NSW, Kangaroobie House was constructed from fully-welded structural steel frames and fabricated offsite in 12 weeks. 'Our homes are are fully finished in our factory prior to being delivered to site,' explains Modscape managing director Jan Gyrn. 'All of the painting, tiling, cabinetry etc., is complete before leaving the factory. This minimises the amount of time required onsite and ensures we have a high level of quality control.'
However, this Melbourne-based architecture practice do not subscribe to a one-size-fits-all philosophy, taking cues from the qualities of each site and the personalised requirements of their clients.
The client brief for this Sydney family was for an energy-efficient second (weekend) home that maximised the beautiful valley views. 'Sited on a ridge, the form of the home follows the lay of the land and is orientated to take advantage of the beautiful views towards Mount Canobolas,' explains Gyrn.
'In addition the clients engaged Modscape to conduct the construction offsite in a controlled factory environment to eliminate potential weather delays (owing to the high altitude, in winter the area frequently gets frosts and often snow); and to erase the task of coordinating multiple trades (which is difficult in a rural setting that's close to four hours' drive from their permanent residence).'
From a planning perspective, despite the modularity, Modscape are able to work with great flexibility. 'There is no set module size or shape so there's great flexibility in the design,' explains Jan. 'Modules can be placed side-by-side or end-to-end to create greater internal spaces.'
The Kangaroobie home incorporates three modules, set into a T-shaped plan with separate wings for living, sleeping and utilities. Windows and doors have been positioned to maximise their effect as frames to the landscape, leveraging the majestic valley vistas.
INFORMATION
modscape.com.au (opens in new tab)