At Design Week Mexico, a Museum of Immortality springs to life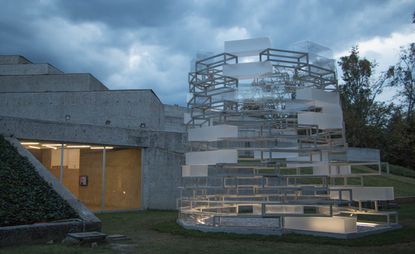 (Image credit: Alberto Jurtega)
October has arrived and with it comes Mexico City's annual Design Week. It's accompanied by a new pavilion by architects Nikolaus Hirsch and Michel Müller of Studio MC, set within the Tamayo Museum's contemporary arts gardens in the heart of Chapultepec Park. Called 'Museum of Immortality', the work is part of the pair's ongoing interest in and research on museums, and particularly on the relation between objects and people.

Every year during Design Week Mexico, the museum opens its gardens to celebrate creativity and this year it was the Frankfurt-based duo's turn to be invited to build their proposal for an eight metre-tall pavilion, exploring the concept of death through architecture. The structure's circular geometry poetically leads the eye towards the sky, while its overall form is something of a hybrid of minaret, mausoleum and modern-day space capsule.

The team was inspired by the philosophical world of Boris Groys, who developed the concept of the Museum of Immortality as a metaphysical space dedicated to permanence and resurrection for both humans and objects; an immortal space for everyone and everything. The architects' earliest investigations into the theme included a namesake exhibition in Beirut, curated by artist and E-flux co-founder Anton Vidokle.

The Tamayo pavilion is an abstract prototype, a speculative large-scale model featuring steel and Plexiglas elements that evokes display boxes typically used in exhibitions. It can be experienced as a standalone focus within the park, or as an extension of the museum. Nearby, a video by Vidokle and Oleksiy Radynski explores the project's theoretical premises.

With the Museum of Immortality, Design Week Mexico opens a discussion on key issues of art, architecture and the urban realm; a fitting theme as Mexico City heads towards becoming World Design Capital in 2018.
INFORMATION
For more information visit the Studio MC website (opens in new tab) and Design Week Mexico's website (opens in new tab)
Photography: Alberto Jurtega