Metropol Parasol by J Mayer H, Seville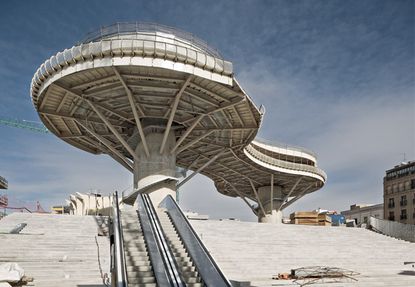 (Image credit: Pedro Pegenaute)
Never ones to sit back and wait for things to happen, we sped over to Seville in 2010 to check out the Metropol Parasol by German architect J Mayer H, when it was still under construction. Spotting the promise in the mushroom-like canopy emerging from the centre of Plaza de la Encarnación, we awarded it Best Building Site in our 2010 Design Awards - and now we're pleased to see that its recently completed form is every bit as startling as we expected.
A handful of German firms are making a name for themselves in ultra hi-tech buildings, using the very latest parametric design software to create futuristic forms. J Mayer H has used clever maths and smart engineering - with help from Arup - to fashion this curvy, fluid structure, mainly out of wood. It is one of the world's biggest buildings to be held together by glue.
Located in the historic city centre of Seville, the sweeping parasol lends extra surface area to the square, creating room for an archaeological museum, a farmer's market, cafes and a panoramic terrace. As well as reasserting the plaza's role as the city's main hub, the new structure provides handy shade and generates an inviting microclimate away from the hot Spanish sun.
More than a mere trophy building, this particular umbrella is a progressive, as well as potent, piece of urban architecture.