Red giant: the Great Amber Concert Hall is a new landmark for Latvia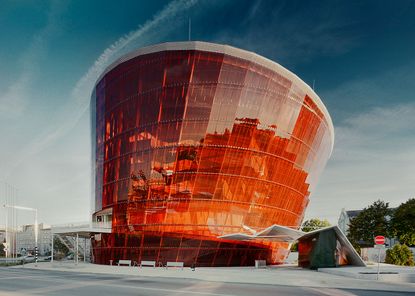 (Image credit: Indrikis Sturmanis)
Following an architecture competition held in 2003, the windiest town in Latvia is host to a new striking cone-shaped building. The structure is celebrating Liepaja, the city located on the Baltic Sea coast on the westernmost point of the country. On 7 November, the Great Amber Concert Hall will be inaugurated as the first of a number of interventions to turn this part of the city into a 'cultural urban district'.

Designed by Graz architect Volker Giencke, the building is intended as a civic monument, a new landmark open to everyone. Its amber-coloured skin reflects an effort to firmly place Liepaja on the global cultural map: during the day reflecting various shades of amber, at night becoming a gleaming point of reference.

Beyond the tinted glass lies an irregularly shaped structure that folds around a grand concert hall with a capacity of 1,000 visitors. The hall is arranged into terraces as part of Giencke's collaboration with Munich firm Müller-BBM to achieve optimal acoustic quality. Fourteen reflective tubes flood the space with daylight, not to mention the orchestra pit and stalls, which can be elevated to form additional space for congresses, exhibitions and receptions.

The architects' idea of multipurpose use and openness in further emphasized by additional programs arranged around the central hall: rehearsing rooms for the Liepaja Symphony Orchestra and Music School, a ballet studio, an experimental stage, foyer, bar, music club, and, finally, the Civita Nova ('new city') hall, which provides an additional 2000 sq m space for various events.

The area around the building is bathed in warm tints of amber, which is a material traditionally linked to the region. According to the architects, the project is intended to reminisce such aspects of Latvian culture, while at the same time drawing international attention to the country's music and architectural legacies.
INFORMATION
For more information on Volker Giencke, visit the studio's website (opens in new tab)
Photography: Indrikis Sturmanis