OMA imagines a city within a city for a vast engineering school in Paris-Saclay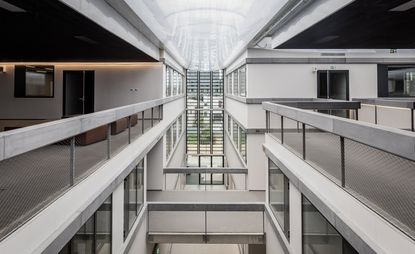 (Image credit: Vitor Oliveira. Courtesy of OMA)
A rapidly evolving technology cluster competing for the status of Europe's Silicon Valley, Paris-Saclay will cover 385 sq km and is set to accumulate 20 per cent of France's research capacities by 2020.

Part of this enormous project is the new campus for CentraleSupélec, focused on engineering and systems sciences and welcoming 4,200 students this school year. This is possible thanks to a 40,000 sq m facility designed by OMA (opens in new tab) and a 25,000 sq m building by Swiss architects Annette Gigon and Mike Guyer. Planned cooperatively, the two structures host educational and research spaces, but also a few shared areas – from a sports hall and a theatre, to a language centre and a canteen – to be used by the entire campus.

For OMA's team, led by Ellen van Loon and Rem Koolhaas, this was an opportunity to demonstrate how architecture can 'contribute to a new educational, social and civic dimension'. Named Lab City, their project steps away from the conventional idea of a massive, introverted box within an urban area and proposes instead a small, animated city within a city.

Manhattan's gridded block system comes to mind when one finds themselves under a gigantic transparent roof, in the midst of classrooms, labs and offices designed as separate 'buildings' and connected by a network of alleyways. Each space has large windows facing the 'streets', while the rooftops of these mini-buildings provide an additional 2,000 sq m of 'outdoor' space intended for more informal use, from lounges to improvised classrooms. The diagonal 'main street' continues outside, connecting the campus with the upcoming station of the Grand Paris Express.

Through mixture and openness, the project enables interaction between students, researchers and administration. The director's area, for instance, is made largely accessible; shared facilities can be leased to external users. Besides, the layout includes two 'plazas', with an open-space cafeteria filled by a snacking and laptopping population throughout the day rather than being isolated and open for a few hours only. Classrooms have entire walls acting like whiteboards; one can write on the outward-facing glass walls as well. The large amphitheatre, divisible into three separate segments, serves as both a conference space and an extra classroom. A transparent ETFE roof with a sunshading pattern above the 'plazas' and 'rooftop terraces' floods the Lab City with light even on rainy days.

By 2019, the campus will have new neighbours: Renzo Piano (opens in new tab)'s design for École Normale Supérieure and a telecommunications school by next year's Venice Biennale of Architecture curators, Dublin-based Grafton Architects. Further away, but still within Paris-Saclay, a Sou Fujimoto (opens in new tab)-led team of French and Japanese architects will deliver the future learning centre for the École Polytechnique.
INFORMATION
For more information, vistit the OMA website (opens in new tab)