LA's new wave of galleries blend art and architecture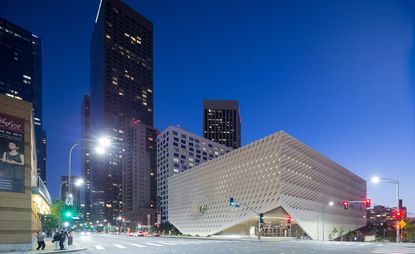 (Image credit: Iwan Baan, courtesy of The Broad and Diller Scofidio + Renfro)
Los Angeles is undoubtedly experiencing a moment in the cultural spotlight. But beyond the hypebeast of this current creative boom, a scene is being built to last on the West Coast: Los Angeles currently counts around 400 modern and contemporary art spaces, with an estimated 50 opening up since 2013.

This sudden influx of new galleries – with a high concentration migrating into the gentrifying downtown arts district – includes new enterprises as well as established names setting up second spaces here. Hauser & Wirth will unveil a 'museum quality' venue in 2016, with a bookstore, bar and restaurant; Sprueth Magers also have an LA outpost in the works; while other blue chips from New York and London have already set up in the city.

The very recent addition of the Broad Museum – now the city's largest free contemporary art spot, opened in September – has confirmed the Downtown neighbourhood's status as a permanent cultural destination for Angelinos and visitors. So what's so special about LA?

One appealing aspect is the space available in LA that allows gallerists and artists to grow and stretch out in a way they couldn't in other cities. The lifestyle quality is of course a factor in the west's glamour capital, and with so much creativity moving into LA, new spaces are being spectacularly repurposed to maximise the year-round sunshine, with rooftops and gardens to showcase work outdoors and capitalize on the warm weather. This architect-led transformation enhances the distinctive experience of viewing art in LA, and unites further the city's autonomous art with its historic, pioneering design scene.

Here, we took a pick of some of our favourite new architecturally minded art spaces: step inside, and you'll get the feeling that this is how art is supposed to be seen - with plenty of room to breathe, in symbiosis with its environment...
David Kordansky Gallery: Kulapat Yansatrast at wHY architecture is one of the go-to firms for cultural spaces on the West Coast, working closely with curators in order to understand and address programming concerns. Past collaborators in LA are on the institutional level, and include CalArts, the Museum of Contemporary Art and the Los Angeles Country Museum of Art. Emerging gallery David Kordansky is their latest offering.
For this gallery, the approach was a little different. They renovated a space that had been used as a martial arts centre, a specialty food store and a car repair workshop in the past.
Completed in 2014, the original bow-truss wood ceilings arch over two separate galleries, a mezzanine library, lounge, and entry court and garden - all enclosed by an exterior wall, designed to give the feel of an 'inner sanctum'.
Regen Project: Regen Projects' current building, clad in distinctive white plaster, protrudes proudly onto Santa Monica Boulevard in the centre of Hollywood's art hotspot.
The creation of LA-based architect Michael Maltzan, the sweeping 4,000 square foot space was designed to be highly flexible, to be adapted to the needs of Regen's diverse roster of artists from Raymond Pettibon to Matthew Barney, as well as incorporating the galleries offices.
An equally spacious rooftop sculpture garden offers outdoor exhibition space, and of course, makes the most of the Southern Californian weather.
Gallerists Liv Barret and Nelson Harmon came to Los Angeles from Melbourne and Vermont respectively to set up their gallery, opened in summer last year. In their search for a spot in the burgeoning downtown area, they opted for a 4,000 sq ft space in an 80-year-old building on West Pico Boulevard, close to the Staples Centre.
Nelson says they chose the space for its light, and set about transforming the interior themselves (with the aid of takeout pizza) building walls over ragged brick and plaster, refurbishing the floors and replacing the exterior windows, keeping a minimal aesthetic in mind, the perfect tabula rasa for their roster to work on dimensional exhibitions across two floors. It never looks the same twice.
LA-based, Paris-born Francois Perrin assisted fellow Frenchman Francois Ghebaly on reimagining the interior of a 12,000 ft. warehouse space, within an industrial complex next to the 10 highway. The space was so huge that Ghebaly invited four other tenants to share it - a mix of commercial and non-profits - that makes the site a genuinely diverse and autonomous creative ecosystem.
Perrin specializes in exhibition design with a concern for site-specificity and environmental context and helped Ghebaly to work with the space and structure its divisions for the various needs for all its tenants' projects (an artist book publisher, residency programme, and media resource centre also reside here).
Museum as Retail Space: MaRS is a new addition to the gallery scene, located in a still relatively unchartered terrain, under Los Angeles' largest bridge on the banks of the East River. Like many galleries in LA, you need a car to reach it, and you won't necessarily find other cultural spots nearby - but also like many spaces, you'll have plenty to see in one place.
Under the guidance of gallery director and owner Robert Zin Stark, the space was remodeled into a mitochondrial layout, comprising five separate spaces, and an ample succulent garden offset by a cinder block exterior.
The redesign reveals another fascinating facet of local history: the previous tenant at MaRS ran it as an illegal marijuana nursery, which was exposed when a fire in 2012 destroyed everything but the brick walls. The fire-scarred walls were left visible with the renovations.
MAMA: One of downtown's newest gallery spots, MAMA has just celebrated its first anniversary. The building dates back to 1908 and was constructed around the walls of a former residential house and its vineyards. When gallery director and partner Eli Consilvio designed the layout of the interior gallery space, his aim was to keep as many of the original brick archways and features as possible.
For their inaugural show, Erection, in 2014, MAMA invited artists to respond to this interior - which since then has been transformed and evolved for each presentation. The gallery bookstore now stands in the shell of the old house, with its windows out onto the main gallery space.
Until 2013, Night Gallery - founded by artist Davida Nemeroff and dealer Mieke Marple - inhabited a space in an insalubrious Lincoln Heights strip mall; its walls were painted black, its opening hours strictly nocturnal, and its parties were legendary. You wouldn't know it walking into its current lofty location, designed by Peter Zellner (principal of Zellner Naecker Architects), who specialise in public and private gallery spaces in Los Angeles, San Francisco and New York.
The clean white walls (separating the space into two huge open areas) and soaring ceilings reflect the growing needs of a serious commercial gallery. The owners are now widely recognised as a pair of the city's premier contemporary dealers, but still favour artists who work on the edgier side of high art - and the parties now happen in the courtyard space out front.
Susanne Vielmetter Los Angeles Projects in Culver City: Zellner is also the name behind the architectural plans for art dealer Susanne Vielmetter Los Angeles Projects in Culver City, which opened to the public in 2010.
Susanne Vielmetter, who moved to Los Angeles from Berlin fifteen years ago, showcases here her roster of mid and established level artists from Europe and the region.
With a budget of almost half a million, Zellner and his team created almost 8,000 sq ft for art inside the former industrial warehouse, divided into four exhibition spaces - currently housing an exhibition by William Pope.L. Zellner has also led designs for art venues such as LAXART and more recently, Matthew Marks Gallery, in Los Angeles.
Various Small Fires: VSF originally opened up on the main strip at Venice Beach in 2012, but in tandem with the migration East for many galleries, moved to Hollywood last year. Their current space is an example of current LA trends in the scene, where commercial galleries frequently inhabit spaces as grand as museums, allowing them to flexibility in programming screenings, performances, installations and large-scale sculpture, all of which are interests at VSF
The North Highland Avenue venue was designed in collaboration with Johnston MarkLee Architects - the firm behind the designs for the UCLA Graduate Studios, the new MCA Chicago and Harvard Architecture School
The innovative design features include an outdoor sound corridor, architecturally fitted with hidden speakers, a 'roofless' outdoor gallery, as well as 3,000 sq ft of interior project space with light streaming in via skylights and extensive sliding doors onto the garden
Kayne Griffin Corcoran: KGC is a complete fantasy in terms of gallery design and reflects the ambition and approach of its creators. David Lynch and James Turrell are among the major contemporary artists who to have shown at Kayne Griffin Corcoran - one of Los Angeles' most impressively designed spaces
Turrell is in fact one of the gallery's collaborators - alongside Maggie Kayne, Bill Griffin, and James Corcoran - and was the subject of the space's inaugural show at 2013
The four designed the fantasy space - Turrell was responsible for the lighting and landscaping the outdoor space that includes a gorgeous bougainvillea-clad courtyard
Ashes/Ashes: The historic American Cement Company's building on Wilshire Boulevard next to MacArthur Park is a local architectural icon and proof that concrete can be beautiful. Designed by Daniel, Mann, Johnson and Mendenhall (DMJM) the building was originally designed to house the Company's HQ, and was completed in 1964.
The striking 13-storey building is now home to the offices of some of the cities top architectural firms, as well as new contemporary gallery Ashes/Ashes, on the ground floor.
The gallery has plans for a new interior in 2016 to showcase their avant-garde and inventive curatorial programme.
Receive our daily digest of inspiration, escapism and design stories from around the world direct to your inbox
Charlotte Jansen is a journalist and the author of two books on photography, Girl on Girl (2017) and Photography Now (2021). She is commissioning editor at Elephant magazine and has written on contemporary art and culture for The Guardian, the Financial Times, ELLE, the British Journal of Photography, Frieze and Artsy. Jansen is also presenter of Dior Talks podcast series, The Female Gaze.