Kew Gardens celebrates Donald Insall restoration of Temperate House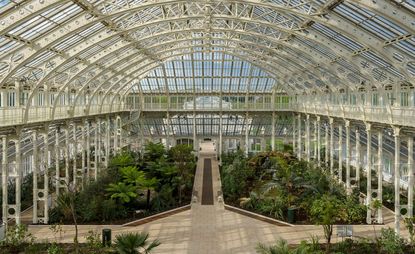 (Image credit: Gareth Gardner)
After a five-year-long restoration, the Royal Botanic Gardens Kew has reopened Temperate House, the largest remaining Victorian glasshouse in the world and a UNESCO World Heritage Site. Covering 4,880 sq m and housing a staggering 1,500 species from temperate regions around the world, this is one of the most striking centres of plant research today. Donald Insall Associates was the project's conservation architect, as part of a multi-disciplinary team charged with repairing, restoring and bringing the historical building back to life.

Originally designed by architect Decimus Burton in the late 1850s, Temperate House served as a place for the preservation and display of the British horticultural collection that was expanding at that time. Influenced by the Industrial Revolution, this large glasshouse project was executed in wrought and cast iron and glass, and took almost 40 years to complete. Through essential new interventions, the restoration process has returned Temperate House to its original design, equipped with electrical systems that are connected to a weather station and internal monitoring network in order to provide the best possible atmospheric conditions.

'The restoration of the Temperate House has been a complex and immensely rewarding project, recalibrating contemporary understanding of Victorian architecture and the development of past innovations', says Aimée Felton, associate at Donald Insall Associates and lead architect on the project. 'New glazing, mechanical ventilation systems, path and bedding arrangements all took their founding principles from Decimus Burton's own drawings, held within Kew's archives.'

Composed of 45,000 sheets of float glass, the 180-metre-long structure is organised into five interconnected spaces designed in the form of a dream – a vision of different places, spectacular forms of nature, and threatened wildlife species that existed long before humans. Featuring a 12m high circular mezzanine, the central hall is for the largest plants, bridged by two lower octagonal side wings – the Mexican House and the Himalaya House – and their annexes. A variety of trees and rare species such as Dombeya mauritiana and Encephalartos woodii, in addition to other exotic plants, grow within. Soft light and fresh air fill the space. Creating a place that feels serene and intimate, this beautifully orchestrated building stands within 132 hectares of landscaped gardens overlooking the flowing Thames nearby.

'It's been amazing watching this project unfold, the building emerge gloriously and some of the world's rarest plants safely reach their home,' says Richard Barley, director of horticulture. 'this is world class horticulture, science and design working together to create something truly impressive.'

Historically, aside from their practical function, winter gardens have also served an important representational purpose, celebrating plant life and introducing valuable information to the wider public. Today, while more common, they still play an essential role in the exploration and preservation of extinct species, and have always provided us with moments of enchantment through their magnificent appearance and unusual contents. Just as unique in this way, the elegant silhouette of the Temperate House floats on the landscape, shedding new light on the importance of nature and its fragile beauty.
INFORMATION
For more information visit the website of Donald Insall Associates