Kahlstrasse House: Buchner Bründler Architekten breaks the mould in Basel with stacked blocks of textured concrete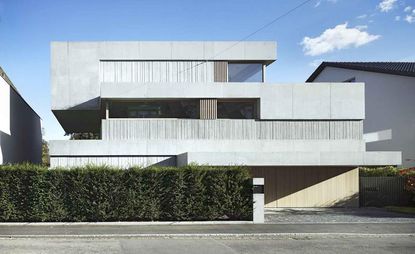 (Image credit: Designed by Buchner Bründler Architekten)
Set within a conventional row of townhouses, the dynamic volume of 110 Kahlstrasse House clearly stands out. The project, located in calm, sought-after residential quarter of Basel, was designed by local practice Buchner Bründler Architekten (opens in new tab) for a client in retirement.

Kahlstrasse House is a deliberate departure in style and geometry from the street's strict residential structure. Orientated towards its carefully landscaped garden and engaging as little as possible with the street, the house is diligently sculpted to address issues of interior mobility, light and views.
See the interactive floor plan of Kahlstrasse House

The triple-height entrance hall acts as the house's heart - from here the visitor can peek through to the other levels and access the living room and kitchen on the ground floor. An elevator shaft cuts the house vertically, enabling easy access to all three floors. The top ones contain its four bedrooms; a master suite for the owner at the top floor and a further three bedrooms downstairs for visiting family, guests and the housekeeper.

Conceived as a series of monolithic blocks sitting on top of each other, cast in concrete with different shell structures, the house is imposing, with an intriguing, textured look. In keeping with their signature style, the architects created a playful contrast between the sturdy concrete and the warmer and lighter timber finishings, both inside and out. The offset concrete layers result in terraces around the house at different levels that mediate between the interior spaces and the garden - providing the client with pockets of blissful tranquillity.

Created with openness in mind, the house offers a dramatic interior, naturally lit from unexpected corners and gently framing the leafy garden's green views. Working with a striking modern form that is complimented by calm, clean interiors, the team at Buchner Bründler Architekten fulfilled the client's requirements for a house that will support them throughout their retirement, while at the same time ageing beautifully.