Art of war: John Pawson makes a wartime base a home for The Feuerle Collection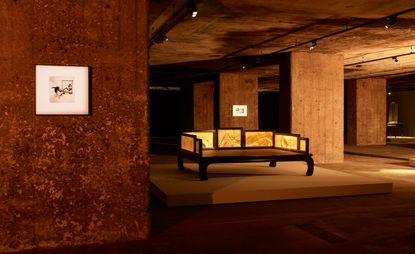 (Image credit: Nic Tenwiggenhorn)
When British architect John Pawson was asked to create a museum for The Feuerle Collection, in a Second World War telecommunications base in Kreuzberg, Berlin, he didn't need much persuading. 'You're just awestruck when you come in aren't you?' he says of the 1942 building, which is his first project in the city. 'It is just so massive, so monumental, with such a charged atmosphere. This is a building designed by an engineer, who had real taste and an eye for proportion and scale. We didn't want to change anything here.'

Still, the team has done a huge amount of work to make this two-storey, 6,500 sq m enclosed space a functioning museum. The bunker was specifically designed to protect the telecommunication system during the war; the high-quality concrete walls and ceiling are 2m and 3.5m thick, respectively, and the Allies were unable to penetrate them. 'Physically it was a big challenge for us', admits Pawson. 'We had to move slowly to keep our intervention subtle and modest.' In the two years of construction, much time was spent recovering the special texture of the aged concrete surfaces – by removing the plaster on the columns, the graffiti and accumulated dirt on the walls, floors and ceilings.

The chicane at the entrance that once acted as a bomb shield is now a passage leading to a unique experience. Starting from the basement, one enters the Sound Room to a background of minimalist tones and silences created by American composer John Cage. Until you enter the vast main exhibition room there is no natural light and the place is left in near darkness, forcing you to readjust all your senses to negotiate the space. Your eyes are then attracted to the ingeniously curated spotlights and centuries-old stone and wood sculptures from the Khmer Empire that seem to appear from nowhere.

During construction the team encountered flooding problems, as a canal runs next to the building. 'It was rather beautiful when it was flooded; the columns were mirrored in the water like the cisterns in Istanbul,' says Pawson. And he decided to keep this accidental art piece, calling it the Lake Room. 'It is essential to preserve a space like the Lake Room, to let the structure breathe, and not intervene too much,' explains collector and museum founder Désiré Feuerle. 'In that aspect Pawson is really a master – he shows respect for the building in an elegant way.'

Feuerle also brought to the museum his fascination with Asian incense ceremonies, a spiritual tradition dating back over 2,000 years. Pawson planned the Incense Room on an elevated platform in the basement, that features walls made of two-way mirrors, so one can focus on the peace of the ceremonial room while not losing contact with space outside. A set of incense tables and stools were designed especially for the ceremony, crafted by the last carpenter to master the art of traditional Chinese joinery, in precious African blackwood. They show a hint of Chinese spirit together with the architect's contemporary minimalist touch.

The museum's exhibits extend from the 7th century to the present; Imperial Chinese lacquer furniture sitting with contemporary works by artists including Nobuyoshi Araki, Cristina Iglesias, Anish Kapoor and Zeng Fanzhi. When talking about this otherworldly, almost religious experience, Feuerle says: 'The aim is to have something different. Everything today is so quick, so commercial. I like to support the idea of quality.' The Feuerle Collection was opened for preview across Gallery Weekend Berlin. It will next host the Berlin Biennale from June to September, and open officially in October.
INFORMATION
For more information, visit The Feuerle Collection's website (opens in new tab)
ADDRESS
The Feuerle Collection
Hallesches Ufer 70
10963 Berlin
View Google Maps (opens in new tab)
Yoko Choy is the China editor at Wallpaper* magazine, where she has contributed for over a decade. Her work has also been featured in numerous Chinese and international publications. As a creative and communications consultant, Yoko has worked with renowned institutions such as Art Basel and Beijing Design Week, as well as brands such as Hermès and Assouline. With dual bases in Hong Kong and Amsterdam, Yoko is an active participant in design awards judging panels and conferences, where she shares her mission of promoting cross-cultural exchange and translating insights from both the Eastern and Western worlds into a common creative language. Yoko is currently working on several exciting projects, including a sustainable lifestyle concept and a book on Chinese contemporary design.