Iwan Baan's photography exhibition journeys from Las Vegas to Rome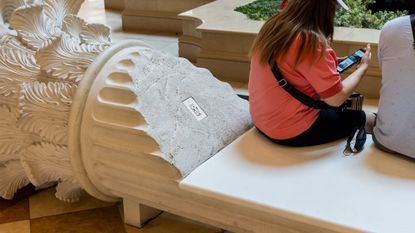 (Image credit: From Iwan Baan's show 'From Las Vegas to Rome')
Shown at the American Academy in Rome, Iwan Baan's images are presented simply; there are large, blown-up depictions of aerial-view cityscapes and hoards of tourists at famous landmarks. The architectural photography exhibition, 'From Las Vegas to Rome' is layered and enticing, and offers candid frames and fascinating vistas that reveal a dialogue between the two cities.
Views of Las Vegas are punctuated by colourful towers and commercial images, while the natural form of the river Tiber cuts through Rome's swathes of historic white stone buildings, sunlit and bathed in an orange glow.
Echoes of one city are found in the other. A Roman column copy lies on its side in a Las Vegas interior, a bench carved into it and a charging port embedded in its angled surface. Meanwhile, a picture of the Trevi fountain's sculptures, with rucksack-clad tourists crowding in the foreground, mirrors an image of similar white stone sculptures in Las Vegas.
Baan's show takes inspiration from the legacy of Learning From Las Vegas, the seminal 1972 book by Denise Scott Brown and Robert Venturi, which studied the innovations of a newly built city, both in terms of culture and physical space.
Here, in a photographic expression of this approach, the exhibition's curator Lindsay Harris and Baan consider the impact of Brown and Venturi's contemplation and apply it to the two cities, reflecting on the constant evolution of modern-day ideas on architecture and culture.
iwan.com (opens in new tab)
'From Las Vegas to Rome: Photographs by Iwan Baan' is at the American Academy in Rome, until 27 November 2022
Martha Elliott is the Junior Digital News Editor at Wallpaper*. After graduating from university she worked in arts-based behavioural therapy, then embarked on a career in journalism, joining Wallpaper* at the start of 2022. She reports on art, design and architecture, as well as covering regular news stories across all channels.