Ahead of the curve: an undulating house on the shores of Lake Zurich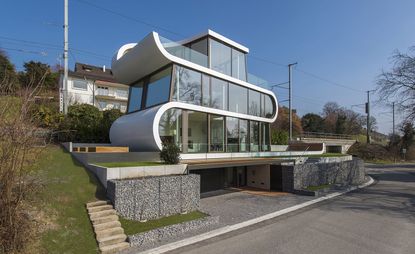 (Image credit: Peter Wuermli)
Flexhouse, a new home on the banks of Lake Zurich, appears to be a formal flight of fancy that has become a bricks-and-mortar – or rather glass and undulating ribbon of aluminium shingles – reality. Yet the design by Swiss studio Evolution Design isn't simply a stab at statement architecture for the sake of it. Essentially it's a practical solution to what is a tricky and inauspicious site.

The small triangular chunk of vacant land, spotted by Evolution Design executive director Stefan Camenzind, was challenging in its narrowness, squeezed as it was between a railway line and a road. Added to the mix are the oft' onerous Swiss building regulations. 'There are strict rules around boundary distance and building volume,' says Camenzind. 'But we were determined to build something that responded to the site rather than just a square box planted on the plot.'
Camenzind's 'outside the box' response was to take the idea of the constant movement of the 'dynamic boundaries of railway lines, road and lake beyond' and create a four-storey, 173 sq m house featuring a floor plan that goes from wide to narrow to follow the railway lines and shape of the plot. The fluid folding curves of aluminium shingles snake through the building, drawing the eye continuously upwards. Boundary blurring glass walls on three sides of the house offer views through the spaces to the 180-degree vista across Lake Zurich to the mountains beyond.

The fluidity continues internally, not only in terms of the open-plan living arrangements but also in the way that there is a seamless transition between levels. Rather than closed-off individual floors, double-height spaces offer glimpses of rooms above or, from the first floor, to the living room below.

Ecologically, the house meets Switzerland's 'Minergie' standard with features including thermally activated concrete floors that connect to a geothermal heat pump. The glass facades are triple glazed with external blinds for optimal control of heat gain.

'A futuristic vessel that has sailed in from the lake and found itself a natural place to dock,' is Camenzind's particular take on Flexhouse.
INFORMATION
For more on the architecture visit the Evolution Design website (opens in new tab)
Photography: Peter Wuermli