The Hood Museum of Art gears up to reopen following renovation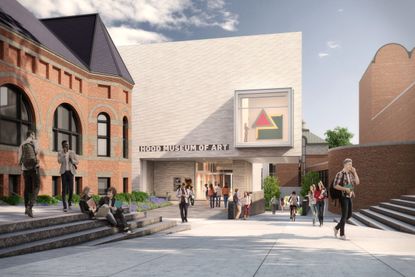 (Image credit: Design by Tod Williams Billie Tsien Architects, Image: March)
Works have been progressing fast at Tod Williams and Billie Tsien's (TWBTA) renovation and expansion of Charles Moore's Hood Museum of Art at Dartmouth College, in Hanover, New Hampshire; and the project is set to open to the public on January 26, 2019.
Their work will double the Hood Museum of Art's gallery space, triple its teaching facilities, and transform its north-facing connection to the school's heart: its historic Green. The cube-shaped, baked white brick façade – punctured by a single 14-foot-square plate-glass window – will project a bolder, more recognisable face, although not too bold, note the architects, who are known for their sensitive work with cultural icons like the Barnes Foundation in Philadelphia.
'Our motto has always been simplify and intensify,' notes Williams, who says he was drawn to the campus's white brick historic structures. Museum director John Stomberg adds: 'You notice it, but it is still quiet.'
The heart of the new undertaking is not the surface, but the experience inside, note Williams and Tsien. Their team has created an addition with a much clearer entry sequence than the original, as well as an energetic atrium, and lofty, art-focused galleries with simple white walls, light oak floors, and copious natural light. They've also added new classrooms, study galleries, offices, object storage, and exhibition preparation areas.
They are extensively renovating Moore's original postmodern building, bringing systems up to date, removing clutter, enhancing flow, and increasing daylight. Moore's playfully askew, red-brick, south-facing façade, restored and enhanced, will highlight the museum's connection to the school's Maffei Arts Plaza, bordered by the Hood, the new Black Family Visual Arts Center, and the midcentury Hopkins Center for the Arts.
Williams and Tsien insist the replacement of Moore's front face and entry was needed for reasons of clarity, safety, practicality, and energy. 'We want to take care of the past, but also give it a new life,' noted Tsien. Williams stresses his firm's ability to both respect and enliven history: 'We are not bent on destroying Moore's work. We want to hold on to what we can, but we also need to hold on to our beliefs about what is necessary.'
The $50 million project, enlarging the institution's footprint to 5,800sq m, will allow it to show off many more of the 65,000 objects in its collection, which range from classical antiquities to African sculptures to the work of Ed Ruscha. Not only will this make it a better place to see art, but it will, notes Stomberg, better address the school's goal of creating a more effective teaching space. Not just for those at Dartmouth, but for students region-wide.
'We don't want to be a wealthy institution surrounded by a community. We want to be part of that community,' says Stomberg.
INFORMATION
For more information visit the website (opens in new tab) of Tod Williams Billie Tsien Architects