Wabi-sabi: The Pavilia Hill offers respite from bustling Hong Kong life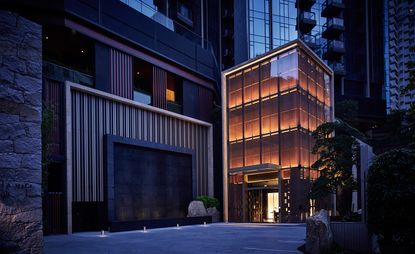 (Image credit: press)
Previously the preserve of bland high-rise tower blocks, Hong Kong's Tin Hau district is upping its residential offering with an innovative wabi-sabi-inspired development that embraces the simplicity and raw beauty of nature.

'In a busy city like Hong Kong, it is hard to find a place to soothe our nerves and have peace of mind,' says Adrian Cheng, the Hong Kong-based executive vice-chairman and joint general manager of New World, the developers behind the recently competed 358-unit project.

Called The Pavilia Hill, the development comprises five blocks of 31 storeys linked by a sublime Japanese landscape garden created by Shunmyo Masuno, one of Japan's most celebrated living landscape architects (who is also the 18th generation head priest of Kenkoh-ji temple, a Zen temple in Yokohama, and teaches architecture and interior design at Tama Art University).

The elegantly executed space encourages peaceful introspection with a stone path that wends through a series of immaculately landscaped—yet seemingly uncalculated—undulating hills with sculptural rocks, Bonsai and man-made waterfalls. Each tower is defined by enormous stone sculptures representing mountains, water, existence, purity and sound.

Singapore-based Japanese interior designer Koichiro Ikebuchi was responsible for the facilities including a serene clubhouse, gymnasium, and the onsen-inspired indoor swimming pool and bath. Throughout, contemplative, quintessential modern and traditional Japanese materials are reflected in semi-translucent shōji screens, natural materials and simple textured walls. 'I've used natural materials that will age in their own original and beautiful ways,' he explains.

The bucolic tableaux include a semi-private lounge complete with a Japanese garden in each tower lobby, a contemporary tea pavilion showcasing an ethereal ink painting by the renowned Chinese artist Zheng Chongbin, and a secluded outdoor meditation space.

For Cheng, who studied art and culture in Kyoto, the project demonstrates a growing interest in living spaces that go beyond aesthetics to evoke an emotional connection.

Judging by the rate the units have been snapped up, it seems Hong Kong agrees.
INFORMATION
For more information, visit the development's website (opens in new tab)
ADDRESS
The Pavilia Hill
18A Tin Hau Temple Road
North Point
Hong Kong
VIEW GOOGLE MAPS (opens in new tab)