Green healing: Heatherwick Studio plans garden-wrapped design for Maggie's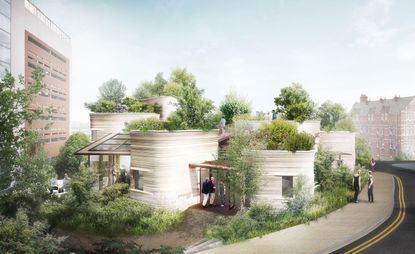 (Image credit: TBC)
If ever proof was needed that good design and architecture can aid the healing process, the respite centres built across the UK by pioneering cancer charity Maggie's are it. With 18 centres already in place, the charity have been granted planning permission for its 19th location – an idyllic centre designed by Heatherwick Studio for the grounds of St James's University Hospital in Leeds.

Working previously with leading architecture practices – Wilkinson Eyre Architects, Cullinan Studio and OMA among them – Maggie's have created a network of welcoming, calm and uplifting buildings built within the grounds of specialist NHS cancer hospitals, where patients, friends and the families of those affected by cancer can receive practical and emotional support.

The new centre is slated for opening in 2017 and designed to be built next to the hospital's oncology unit, the centre is designed around a series of contained gardens – masterminded by the award-winning landscape designer Marie-Louise Agius of Balston Agius – that soften the rigid formality of the surrounding hospital buildings and harness the therapeutic capabilities of plant life.

The building itself functions a little like a collection of stepped planters, each containing its own slice of Eden that spills over the walls. 'The building will combine the qualities of a garden with shared and private spaces,' says Heatherwick, who has cleverly tucked the centre's interior spaces in and around the gardens.