Goldsmiths Centre for Contemporary Art opens in public baths complex converted by Assemble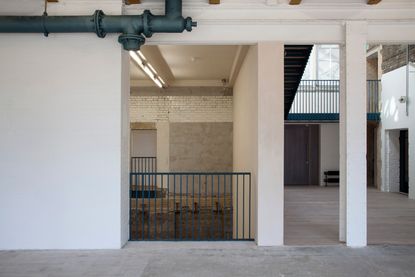 (Image credit: Photography courtesy of Assemble)
The first images have been released for the hotly anticipated Goldsmiths Centre for Contemporary Art (CCA), designed by Turner Prize winning architecture collective Assemble, which opens to the public next week. It's the first major building commission for the socially-conscious collective, and in design, it reflects the studio's commitment to sensitive restoration, and its passion for creating critical testing grounds for exploration and discussion.

Located on the campus of Goldsmiths College, University of London (with its global reputation for excellence and innovation in the arts, and the former stomping-ground of this writer), the new centre is formed from the plant-works and water tanks of what was Laurie Groves Baths.

Now, the former swimming pool complex houses eight gallery spaces, stretching just under 700 sq m; an invaluable asset for the students and teaching staff of the College, and an attraction tempting even more art tourists to the well-established art scene south of the river. The Oak Foundation Project Space, situated in the centre of the building, will host a diverse fast-paced programme, incorporating exhibitions, performances, collaborative projects and events that relate to the main exhibitions project and the university. A further 300 sq m accommodates a café, curators' studio and cavernous event space.
The Project Space, Goldsmiths CCA.
Built in 1898, the swimming baths, slipper baths and public laundries provided an important amenity for generations of local New Cross folk, until the complex closed in 1991, when it was converted into a maze of artists' studios, colourfully populated by postgrads and emerging art stars on the London circuit. At this time, the original back-of-house swimming bath spaces were almost unrecognisable.

Assemble was keen to identify this 'hidden' aspect of Lewisham's social history by opening up Laurie Groves' lost world, instilling it with a new public interface. The result is a raw, unfinished tapestry, complete with original Victorian service pipes, powerfully holding the new gallery and its history in tight accord. These found conditions create an artful backdrop, that (so sensitively rendered), will sing upon inspection, but whisper when artworks are on display.

The project combines industrial materiality with a handmade approach, in an Assemble-typical way (recall its 'Brutalist Playground' project in 2015). The new clerestory and lantern galleries, for example, are clad in a rippling turquoise concrete, developed by Assemble by re-articulating corrugated cement board, to evoke the texture and colour of ceramic tiles often found in Victorian baths. This highly invested material commitment is also seen in the timber panelling in the cast iron tanks, dyed deep indigo from a 'home-brew' iron acetate stain.

The first exhibition housed in the CCA will indirectly respond to the building itself. From 8 September, Argentine video artist Mika Rottenberg will present new and existing work in an exhibition that will run through all seven galleries, featuring two new films, incorporating purpose-built installations alongside sculptural objects. Fitting neatly alongside many of Assemble's areas of interest, Rottenberg is known for her ability to highlight socially important issues, like the inequalities of our global economy, spun through a lens of humour, physicality and space
Information
Goldsmiths Centre for Contemporary Art opens to the public on 8 September 2018. For more information, visit the website
Address
Goldsmiths CCA
St James'
New Cross
London SE14 6NW
Elly Parsons is the Digital Editor of Wallpaper*, where she oversees Wallpaper.com and its social platforms. She has been with the brand since 2015 in various roles, spending time as digital writer – specialising in art, technology and contemporary culture – and as deputy digital editor. She was shortlisted for a PPA Award in 2017, has written extensively for many publications, and has contributed to three books. She is a guest lecturer in digital journalism at Goldsmiths University, London, where she also holds a masters degree in creative writing. Now, her main areas of expertise include content strategy, audience engagement, and social media.