Life work: Glenn Sestig brings balance to the home of Luc Tuymans and Carla Arocha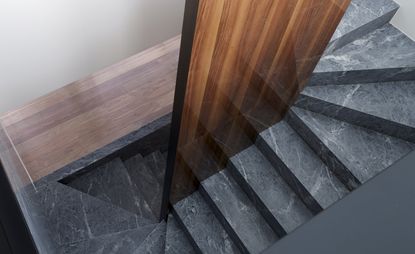 (Image credit: Jean-Pierre Gabriel)
Luc Tuymans does not shy away from controversy. The Belgian painter has addressed Second World War gas chambers, a Ku Klux Klansman and the murdered African politician Patrice Lumumba on his canvases, which are often relatively small in scale, muted in colour, and dominated by grey-tone hues. So when it came to asking Ghent-based architect Glenn Sestig to design the interiors of the spacious Antwerp penthouse he shares with his wife, the Venezuelan artist Carla Arocha, perhaps it's no surprise that Tuymans' inspiration stemmed at least partly from the work of Paul Ludwig Troost.

One of Hitler's favourite architects, Troost designed the Haus der Kunst in Munich, built between 1933 and 1937, which Tuymans much admires (and which David Chipperfield was recently commissioned to renovate). 'It is, of course, a Fascist building,' Tuymans says, 'but it's also very sound. I mentioned it to Glenn almost as a joke, but it became our starting point.' 'At the very beginning, Tuymans and I discussed the meaning of the word architecture,' recalls Sestig, 'and things just fell into place. From that moment on we clicked; we were on the same wavelength.' The architect adds, 'The negative connotations with authoritarian regimes are not the point here. It's about the visual impact of these structures.'

The two-storey penthouse occupies the third and fourth floors of a building in the densely populated Eilandje district, around the city's historic docks (Eilandje is Flemish for 'little harbour'). For the past decade the couple had lived in an Antwerp townhouse, but they decided to relocate mainly for reasons of space and comfort. 'For the first time, we have a gigantic walk-in closet that allows us to put all our stuff in one room, which was especially important for Carla,' Tuymans laughs.
But they also value privacy and functionality: Arocha and Tuymans have separate bedrooms and bathrooms and they chose to install Sestig's high-performing 'Signature' kitchen for Obumex in Pierre du Louvre stone. Much like that kitchen, Sestig's characteristic penchant for horizontal and vertical axes is palpable throughout. Both floors open out from arched central corridors, with bedrooms and bathrooms on the third floor, and a dining room, living room and kitchen on the fourth.

A mirror at the end of each corridor doubles their length. In Arocha's bedroom, Sestig placed two columns in titanium travertine, their symmetry enhanced by arched apertures that frame the windows. Sestig also used the same travertine for the fireplace, both as a nod to Mies van der Rohe's industrial modernism and to Tuymans' own subtle colour palette. Elsewhere, grey Rubino marble has been used for the staircase and some walls (Sestig sourced all the marble from Belgian stone specialist Van Den Weghe). 'There are parallels between the interior's colouration and my own work,' Tuymans says.

'The colours, the materials, they are quite saturated. The further along we went with the plans, the more we realised we wanted to offset these elements with some warmth.' Sestig achieved this with American walnut wooden floors, with built-in shelves and cabinets in high-gloss French walnut. The wall lights, which reinterpret Michel Boyer's 1974 'Brasilia' table lamp, were produced by Ozone and provide muted lighting thanks to two curved paper-based diffusing parts. Wooden details can also be found in the main living room, where Christian Liaigre sofas reflect Tuymans' affection for art deco, but in a more stylised iteration. In the adjoining dining room, a custom-made table is by Ceccotti Collezioni.

Despite the ample number of windows and the light that streams in from both sides, not to mention the terraces that Tuymans values highly, the penthouse still has plenty of wall space – not that Arocha and Tuymans plan on displaying their own art there. 'I find it very important to separate work and life,' says Tuymans, who instead has plans to install their private art collection on the first and second floor of the building, along with their personal library. In the basement, in due time, they plan to install a spa as well.

The building also houses Arocha's atelier and a small exhibition space, which she shares with her artistic collaborator Stéphane Schraenen. Arocha + Schraenen, as their joint moniker goes, cultivate an eclectic practice which encompasses sculpture, installation, photography and performance. Tuymans, on the other hand, retains his atelier in the Borgerhout district, staying true to his belief in the separation between life and work. But for the time being, Tuymans says, 'I spend most of my time on the fourth floor. That's where life happens.'

As originally featured in the April 2017 issue of Wallpaper* (W*217)
INFORMATION
For more information, visit the Glenn Sestig website (opens in new tab)