OMA revolutionises department store architecture with Galleria Gwanggyo
Trails of rugged glass disrupt the impressive stone façade of the Galleria department store designed by OMA to bring daylight and city views to shoppers. For South Korea, the design is a revolution in department store architecture, which usually tries to keep customers oblivious of passing time and fully absorbed in the retail experience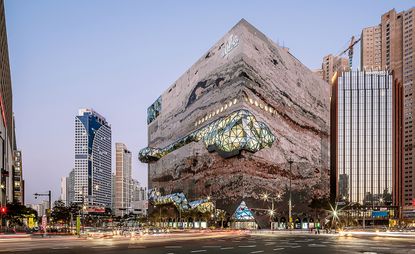 (Image credit: Hong Sung Jun)
This quirky golden-brown stone and glass structure is the recently completed Galleria Department Store in the city of Gwanggyo, just 40 minutes south of Seoul. The Gwanggyo store is the sixth and largest branch of the luxury department store franchise owned by Hanwha and has been designed by Rem Koolhaas' architecture firm OMA, in collaboration with local Korean architecture firm Gansam.

The building had been the talk of town during its construction due to its eye-catching design. The textured mosaic stone façade has trails of rugged glass protruding from it, in stark contrast with the opacity of the stone. As if a sculpted stone is emerging from the ground, the architecture evokes nature – from the neighbouring Suwon Gwanggyo Lake Park – and connects it with the urban environment surrounded by ubiquitous high-rise buildings.
A public route has been excavated from the stone volume as a multifaceted glass façade facing out, twirling up towards the rooftop garden. For passersby, this is a fascinating element to observe, while for visitors inside, this transparent passage offers alternative vantage points to explore and enjoy the city while moving up the escalators.

'With a public loop deliberately designed for cultural offerings, Galleria in Gwanggyo is a place where visitors engage with architecture and culture as they shop. They leave with a unique retail experience blended with pleasant surprises after each visit,' says OMA partner Chris van Duijn who led the project.

What distinguishes the building from other department stores is that the Galleria Gwanggyo is the first department store in Korea to allow light to enter the building from all corners through the 'Public Loop'. Department stores have traditionally been built as closed structures with no windows so that customers lose their sense of time and focus on shopping. This new attempt by Galleria is revolutionary in that sense – as it has masterfully incorporated light as a mechanism to bring joy and entertainment, and in turn, tempting customers to linger longer.
INFORMATION
oma.eu (opens in new tab)