South side: Wallonia's contemporary architecture is surveyed at the Sicli Pavilion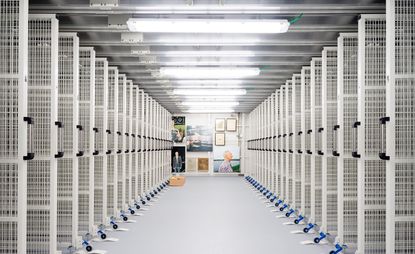 (Image credit: Francois-Lichtle)
The undulating geography of southern Belgium, also known as Wallonia, is different from that of the country's north, just as its language, its culture and its politics. As a result, the French-speaking region – which operates under a separate government – also developed an architectural vision that addresses the needs of the territory.

An exhibition opening tomorrow at the Sicli Pavilion in Geneva, 'Entrer: five architectures in Belgium', draws attention to examples of contemporary architecture in Wallonia and Brussels, in a sensory concept that combines objects and material from the sites with soundscapes by Christophe Rault and photographs by Maxime Delvaux. 'The architects chosen to participate in this exhibition are architects who go the extra mile, who go above and beyond that what a brief prescribes,' says Audrey Contesse, the architect and art historian who curated the project.

In the city of Spa, architecture practice Baukunst aimed for minimal landscape intervention with its Sports Centre La Fraineuse. In a valley housing a classicist castle, they levelled the surrounding sports fields to open up the view, and built a single-floor square structure with floor-to-ceiling glass walls. In the industrial wasteland that is the city centre of Dison, Baumans-Deffet proposed to preserve the structure of the Interlac complex – an enormous former dairy factory – and, from within, created an urban redevelopment with room for the arts and human interaction, reusing what they could.

The tendency to repurpose existing territory as a palimpsest also occurs in another two projects, both in the public domain: a dynamic footbridge in the centre of Brussels by MSA and Ney & Partners; and L'Artothèque, a former chapel in Mons that was converted into a museum by L'Escaut and Atelier Gigogne. One outlier was included in 'Entrer': a garden pavilion built for a private client by the young Flemish architecture practice VERS.A. But even here, the desire to minimise human impact predominated in the choice of materials and unobtrusive appearance of this discrete structure, at the edge of a woods in Renaix.
INFORMATION
'Entrer: five architectures in Belgium' is on view until 13 October. For more information visit the project's website (opens in new tab)
ADDRESS
Sicli Pavillon
Route des Acacias 45
1227 Acacias
Geneva
VIEW GOOGLE MAPS (opens in new tab)