'Emerging Ecologies' at MoMA explores the history of the 'green' movement
'Emerging Ecologies' opens at MoMA in New York, curated by Ambasz Institute director Carson Chan and seeking the meaning of building 'green'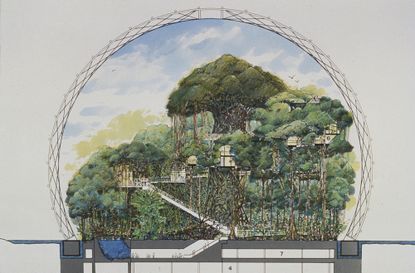 (Image credit: Collection Cambridge Seven Associates )
A New Yorker article written by David Owen nearly 20 years ago proposed that Manhattan should be considered an experimental ecological paradise: a wholly artificial manmade environment with a population density 800 times the average of the country. It would allow millions of people to coexist, sharing resources and reducing energy, with citizens rarely owning their own car and the majority using public transportation at a uniquely high rate.
The thought experiment pulls on a similar question that a new exhibition at the Museum of Modern Art (MoMA) in New York poses: what is ecological after all? What could and should be? The show, 'Emerging Ecologies', unpacks and diversifies the history of the 'green' movement as we may broadly understand it through the lens of design, landscape, preservation and architecture. In all its ambitions and conceit, this fascinating and in-depth show digs deep to provide a multifaceted, joyful and enlightening history. It also provides the framework for a sort of 'anti modern' environmental design movement.
'Emerging Ecologies': unpacking the 'green' movement
The exhibition also sets out the intention for the museum's new Ambasz Institute for the Joint Study of the Built and the Natural Environment, and is curated by its inaugural director Carson Chan, who for two years has been putting forward a rich and lively programme of talks, research, conversations on architecture and ecology.
Charting environmental practice in the United States from its first appearances in the early 1930s, to the 1967 book Silent Spring by Rachel Carson, the invention of Earth Day in 1970, and a public awareness of environmental protection, the exhibition shares the story of sustainable architecture as not only a series of fantastical propositions for ways of living. Must-see projects include Buckminster Fuller's fascinating images of World Game, his unrealized project for the 1967 Montreal Expo, as well as his iconic dome over Manhattan; Ant Farm's Dolphin Embassy; along with a stunning model of the serene Falling Water by Frank Lloyd Wright; and Eugene Tsui's fantastical alternate cityscapes.
In addition to these, the exhibition charts the emergence of data such as ecological databases and computer-controlled greenhouses. It significantly speaks to the absence or prevention of architecture as a powerful narrative in the environmental movement. In all its architectural exhibitions since MoMA's founding in 1929, rarely, perhaps never, has the institution focused on the absence of building.
An expansive political protest by Native American groups that prevented the creation of a vast concrete dam in Phoenix, Arizona appropriately takes over a gallery wall. The story of indigenous primacy to the land, indigenous rights, and environmental justice could be told through this lack of building. Through this perspective, it is interesting to consider that more than a history of environmental architecture, the exhibition seeks to create a new definition for what could be considered as an environmental architectural act today: the work, design and effort that goes into not building.
Themes and discoveries
On the walls and floors of the galleries, visitors discover the familiar but reframed, and the unfamiliar and recentred. The show is divided into five thematic groupings: Environment as Information, Environmental Enclosures, Multispecies Design, Counterculture Experiments, and Green Poetics. In two tightly packed rooms, 150 models, photographs, diagrams, sketches, and archival materials feature, bright, engaging and vivid. The experience is one of almost constant discovery.
What is particularly delightful is that many of the works are from architects and artist's own collections. These are projects passed by over time, as the 1980s and 1990s grew fascinated with technology and growth, or simply just passed over. Glen Small's glorious Green Machine megastructures are a delight to behold. Imagining nature itself as a 'huge ecological megastructure that combine mountains, valleys, forests, streams, and animals in a harmonious whole', the architect conceived of his Biomorphic Biosphere as a self-sustaining ecosystem.
In one corner of the room is a familiar image: a delicate, framed pencil drawing of dozens of vertically stacked suburban homes, complete with individual picket fences, neatly clipped hedges, lawns and pitched roofs, all squished next to and on top of one another into what appears to be a concrete skeleton of a skyscraper. This is Highrise of Homes by the artist, architect and founder of environmental architecture movement SITE, James Wines, which is also currently on display at the Metropolitan Museum of Art. The series has long been an iconic and witty conceit reflective of a moment of deep angst against the ecological immolation of America's sprawling, polluting and unsustainable suburban dream.
Emerging Ecologies doesn't leave its visitors with false promises of a green world. It's clear that the future of our planet is not at all bright, but yet there is a value in revising, revisiting and renewing histories. In putting forward a case for a new expanded and encompassing perspective on architecture, there is much to look forward to in more programming from MoMA's Ambasz Institute.
'Emerging Ecologies: Architecture and the Rise of Environmentalism' is on display at MoMA in New York until 20 January 2024
Receive our daily digest of inspiration, escapism and design stories from around the world direct to your inbox