Eli and Edythe Broad Art Museum by Zaha Hadid, Michigan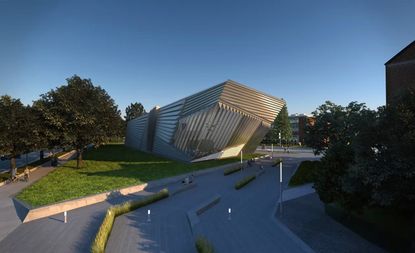 (Image credit: Zaha Hadid)
Fresh from the success of her Olympics Aquatics Centre, Zaha Hadid has a dozen new projects to help build the momentum. But none is as imminent as the Broad Art Museum, a contemporary gallery on the Michigan State University campus, scheduled to open its doors this autumn.

The structure is Hadid-esque in its asymmetrical dynamism, a magnificent foil for the gothic brick campus it aims to nudge into the future. The elongated design edged out competition from established firms such as Coop Himmelb(l)au, Morphosis and even Kohn Pedersen Fox, providing a huge coup for the architect once known as a master of the unbuilt.

The launch of the new 4,000 sq m Broad, named for the benefactors Eli and Edythe Broad, marks the expansion of an institutional collection heavy with antiquities and Old Masters to one rich with modern and postmodern work - thanks to a growing list of acquisitions from Jenny Holzer, Chuck Close, Ann Hamilton and Jeff Koons. Future exhibitions will emphasise young, experimental artists in a range of media.

Hadid's design complements this movement with aplomb, appearing to lunge toward the central campus at a peak height of 12 metres. Her multifaceted façade, composed of glass and stainless-steel 'pleats' (at every angle save for 90 degrees) reflects movement from all directions, stirring curiosity and drawing people in, yet changing in appearance with every step.

Outside, various walking paths that thread in and out of campus and circle the adjacent sculpture garden form an 'urban carpet', a pedestrian plaza, meeting place or simply a point of interest for academics and the wider city.

Of course, any Hadid project becomes a point of interest, and in this midwestern college town of 50,000 it is entirely apropos. The Hadid name, like the museum itself, is a harbinger for the questioning and understanding of new, modern ideas.