Under the sea: Egypt plans underwater museum to show off sunken relics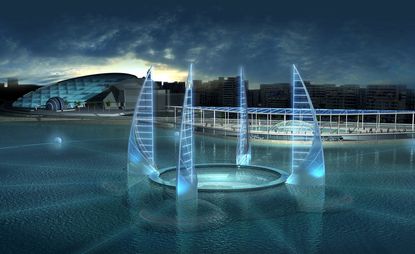 (Image credit: Jacques Rougerie Architecte)
The Lighthouse of Pharos has been at the bottom of the Mediterranean Sea for centuries, but soon tourists might be able to see it when they visit Egypt—no diving equipment required.

The Egyptian ministry of antiquities recently announced plans to build an underwater museum in the harbor off of Alexandria's shore. It would be the first museum of its kind (although others are considering similar moves) and would give visitors a chance to see some of the ancient treasures, like Cleopatra's Palace, that have been under feet of water for ages.

The museum was initially envisioned 19 years ago, but economic turmoil and political unrest derailed the plans. Now, Mamdouh al-Damaty, Egypt's minister of antiquities, has announced that plans for the ambitious museum are back on, reported Smithsonian magazine (opens in new tab).

The planned museum (opens in new tab) will feature an above water section to display recovered relics, but the highlight will be the underwater tunnels, running 23 feet below the surface, that will give visitors access to the antiquities buried in the harbor outside Alexandria. There may even be glass submarines (opens in new tab) to attract a hoped-for three million visitors a year.

Since the project has been discussed for decades, there's already plenty of support to help Egypt move forward. UNESCO (opens in new tab) has been onboard with the concept since 1997, sending a team to do a feasibility study in 2013, and French architect Jacques Rougerie, whose work is inspired by the novels of Jules Verne, has already submitted fantastical designs for the project. Check out his video (opens in new tab) for a sneak peek of his designs, which haven't yet been formally commissioned.

While Egypt, still reeling from the Arab Spring, is in no shape to finance the project, Chinese corporations are showing interest, according to the Smithsonian.

If the project does move forward, tourists will be able to visit not only the Lighthouse, which is one of the wonders of the ancient world, but also the sunken court of Cleopatra, statues, temples, and much more.