Concrete and glass house on Belgian coast designed as a minimal canvas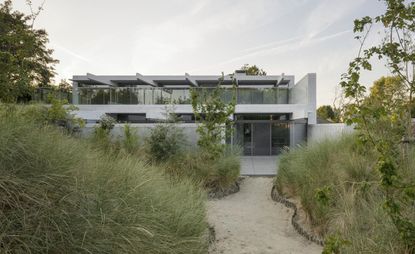 (Image credit: Luis Díaz Díaz)
Architecture studio i.s.m.architecten has created a seaside retreat in the Belgian costal town of Oostduinkerke for a busy Antwerp-based family. The concept, developed in partnership with designer Paul Ibens, combines two residences under one roof.

'The first thing that struck us was the unique setting', explains Koen Pauwels of i.s.m.architecten. 'The building plot is part of a dune landscape that extends into the neighbouring nature reserve. From the start, we wanted to respect the natural slope and the typical vegetation on the site and work with it, rather than against it. To give the building a modest appearance in this environment, we decided to partly embed it into the dune.'

A single, low volume, containing the two stacked residences, appears peeking from the undulating landscape. The top floor has a one-bedroom apartment for the parents, while the ground floor unit has a similar layout with two bedrooms for their grown-up children and their young families. A generously sized internal 'street' provides access to both units and acts as a multifunctional space, to be shared by all inhabitants.
The facades consist solely of glass and prefabricated concrete panels; a series of protruding beams sets a prominent rhythm across the facade. The beams remain visible in the interior and they emphasize the linearity of the layout. 'In both residences, all the rooms are lined up along a long corridor at the rear', explains Pauwels. 'The south-facing front of the house is entirely opened with floor-to-ceiling windows and large terraces that stretch along the rooms. The monolithic rear facade, to the contrary, is closed and with just one carefully placed window that overlooks the back garden.'

The material palette is sober and unambiguous. Pauwels continues: 'We have combined polished concrete floors in the living quarters and custom-made timber floors for the bedrooms with lime plaster on the walls and ceilings and oak veneered fixed furniture. The selective use of glass and stainless steel in the kitchen, adds detail to the interior. Our aim was to create a pure canvas for living, with the surrounding nature as the main attraction.'
INFORMATION
ismarchitecten.be (opens in new tab)