Verdant village: David Chipperfield completes the Xixi Wetland Estate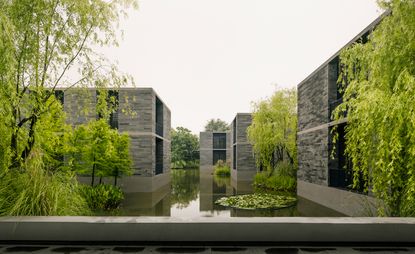 (Image credit: Simon Menges)
For two thousand years, Hangzhou has been celebrated for its incomparable tableau of unruffled lakes at the foot of green hills, and ancient waterways lined with gardens, temples, and graceful buildings designed by a succession of dynasties enamored with the landscape.

All the more reason to applaud David Chipperfield Architects' latest project in Hangzhou's western outskirts for its sensitive regard for the city's historical and botanical nuances. Almost a decade in the making, the Xixi (pronounced 'see-see') Wetland Estate is exactly as it sounds - a residential project that's framed by the leafy, wild setting of Xixi, a bucolic national wetland park of droopy willow trees, long stretches of marshland, and aquatic causeways.

Lead architects Mark Randel and Libin Chen have been careful to ensure the apartments blend into the natural and built landscape, stressing that 'the omnipresent relationship between landscape, architecture and water is key to the atmosphere in Xixi.'

That the relationship is explored so sympathetically and unobtrusively is thanks largely to the facts that the buildings - set on rectangular stone plinths that are a hallmark of local village architecture - barely peep over the natural height of the thick vegetation, and that it is nigh impossible to tell where the landscape design by Singapore-based Belt & Collins ends and the natural vegetation begins.

The architects add that the plinths form 'the base of a village group with various levels, walls and balustrades creating a sequence of exterior spaces that enable access to the buildings.'

Indeed, the sense of a bona fide village compound surrounded by a limpid water garden is unusually well executed. The facades of the two storey-buildings - clad in geometrically striated layers of dark and light stone, and stretched along a central spine of internal courtyards - add to the sense of organic growth.

Meanwhile, the interiors of each of the forty apartments are marked by a generous flow of space that's awash with natural light that stream in from room-height windows. Needless to say, the soothing views of greenery, water and sky - bolstered by the drawing power of the David Chipperfield brand - have all the makings of a sell-out development.
Information
Photography: Simon Menges
Daven Wu is the Singapore Editor at Wallpaper*. A former corporate lawyer, he has been covering Singapore and the neighbouring South-East Asian region since 1999, writing extensively about architecture, design, and travel for both the magazine and website. He is also the City Editor for the Phaidon Wallpaper* City Guide to Singapore.