Cultural exchange: Rolex mentor David Chipperfield pairs with Swiss protégé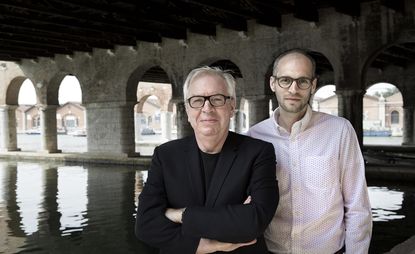 (Image credit: Rolex/Reto Albertalli )
David Chipperfield's vision of designing new urban landscapes in a 'traditional, linked-up way' chimes with notions of simple ideas, generating rich social impact at this year's Architecture Biennale in Venice. The just-announced 2016–17 Rolex architect mentor will put philosophy into practice as he spends the next year in a generous exchange with the Swiss architect Simon Kretz, of Christian Salewski & Simon Kretz Architekten GmbH, Zurich.

The Rolex Mentor & Protégé programme, entering its fourth year in architecture, aims to propel young arts professionals to the next stage of their careers. Thus, Kretz will work on a specific project with Chipperfield, who will dedicate at least 30 days over the next 12 months to Kretz's professional development. That last year's architecture protégé, Gloria Cabral, has just picked up a Venice Biennale Golden Lion award for best exhibition on behalf of her Paraguayan practice, Gabinete de Arquitectura, adds further shine. She spent her year assisting mentor Peter Zumthor on his design for a Seoul tea chapel.

'Simon and I need to start to find the right vehicle,' Chipperfield revealed during the opening week in Venice. 'Conceptual development realisation processes are time consuming but Rolex is committed to creating a dialogue between mentor and protégé as opposed to looking for an end result; it's very much a relationship exercise.' Naturally, the chance to play with 'ideas that you can't do in everyday practice' appeals to the seasoned professional and to Kretz too – the first Swiss architecture protégé, who likes the prospect of their project 'being an experiment'.

Both, however, admit a shared vision as 'architects who like to build things'. So to let the opportunity pan into a totally theoretical exercise is not the end goal, at least as much as the scheme's short time frame, in architecture terms, allows. 'Simon is teaching urban design and works as an architect – also with the city. He's not just interested in urban theory, he is a practising architect, as I am,' Chipperfield says. Kretz, meanwhile, is keen to explore 'the specific impact that building projects have on the wider city surroundings'.

To that end, one of the ideas the pair are bandying around is starting with an existing site, 'maybe one that has been developed in an unplanned manner. Something I'd be quite critical of,' offers Chipperfield. 'We could reshape it in a traditional, joined-up way where one can subject a sense of idealisation into the realisation.' He cites the notion of all decision-making parties being involved in one vision – designers, engineers, city planners working as one. 'We could set a precedent. That would work. It's amazing how linking up thinking can create an environment.' It's a theory we know he's already putting into practice.
INFORMATION
For more information, visit the Rolex Mentor & Protégé website (opens in new tab)