The sound of silence: David and Peter Adjaye present a set of sonic Dialogues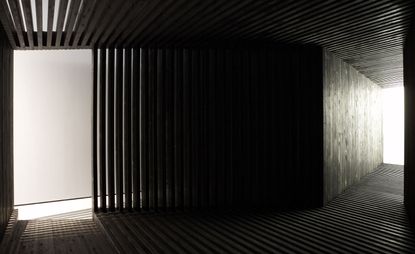 (Image credit: TBC)
The Tanzania-born, London-based architect David Adjaye is a Wallpaper* favourite, not least because he was a judge for our 2016 Design Awards. He's a multifaceted practitioner who thinks like a conceptual artist, creating structures bristling with meaning and subtle geo-cultural references.

A new project, developed in collaboration with Adjaye's brother Peter – aka composer, DJ and recording artist AJ Kwame – delves deeper still into the interstitial realms between 21st century psychogeography and music.

Released this month by The Vinyl Factory and Music for Architecture, Dialogues is a limited edition collection of sonic explorations into David's architectural work. Different genres of music have always been inextricably tied to and redolent of the landscapes they developed in. But, outside of the fields of musique concrète and field recording, it's rare to hear an artist engage with the built landscape on a micro-level, attempting to express the tactile and conceptual nature of architecture in a medium as fundamentally intangible as sound.

Each of Peter's compositions is a direct response to one of David's buildings. 'What Peter does is "sound architecture",' David explains of the process. 'I give Peter a project and ask him to react. Architecture is a narrative. This project is like a DNA experiment. There's a construction.'

Projects of this kind often err towards abstracted musical expression – noise, drone, Radiophonic-style soundscaping – but Peter plays fast and loose, incorporating cinematic string sections, 90s-style jazzy breaks and knowingly ersatz references to the musical vernacular of the countries some of these buildings are located in, or draw from. Still, it's the less conventional tracks that work best.

Take that written for Adjaye's and Olafur Eliasson's 'Your Black Horizon' pavilion at the 2005 Venice Biennale – a four minute sketch of lightly delayed cello, conceived as a musical response to an installation that 'takes its inspiration from the narrow light source that pervades the centre of the pavilion, which then goes through the cycle of the light spectrum as the narrow slits cut your viewpoint to the light source'. (Peter has supplied a detailed text response to accompany each track.)

Or 'Reflections of a Golden Dream', written for the Stephen Lawrence Centre in Deptford. Comprising banks of sombre string, a few synthetic drones and spare percussive clacks, it simultaneously evokes the inherent melancholy of the building, while also making manifest in sound the building's expansive glass panes, adorned with patterns by artist Chris Ofili.

Elsewhere, Peter responds to projects as diverse as The Upper Room (a wooden cubicle created for Ofili for a 2007 Tate Britain show); the Ideas Store in Whitechapel, which features a dreamy smorgasbord of lilting flutes, tabla and percussion; and David's spectacular wooden 'Genesis Pavilion', created for Design Miami 2011.

For this latter piece, Peter was asked to compose a soundscape that pavilion viewers could act with via a QR code on their phones. The track segues seamlessly from primordial field recording, through quirky filmic vocal passages and onto a more percussive, sinister finale.

'Architecture can also be expressed as a kind of movement (of light, sound, people…),' Peter explains, and the record 'is about how you can represent this fluidity, to bring it alive and create an immersive whole-body experience.'

Dialogues is an intriguing and highly original collection, affording Adjaye's practice – already concerned with the human condition – an even greater emotional resonance.
INFORMATION
Dialogues, by Peter Adjaye and David Adjaye, £50, on Music for Architecture and The Vinyl Factory. For more information and ordering, visit The Vinyl Factory's website (opens in new tab)