Community is at the heart of Melbourne's transformed Eastland shopping centre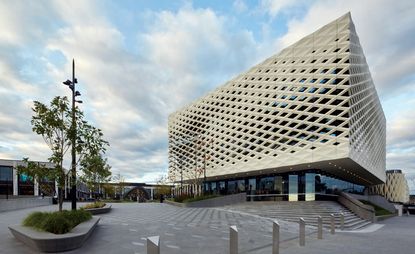 (Image credit: press)
First opened in 1967, the Eastland shopping centre in Ringwood, an outer suburb to the east of Melbourne, has undergone some transformations in its time. Demolished and then rebuilt in 1995 before being expanded in 2002, the centre's latest redevelopment is its most ambitious to date.

Unveiled in October 2015, the first stage of the $665m transformation is the product of a 15-year planning vision that, for the first time in Australia's history, has placed a developer, QIC Global Real Estate (opens in new tab), alongside the council and state government in an integrated public-private partnership.
The result is a design that places the local community at its heart. Working with Seventh Wave in collaboration with The Buchan Group and ACME, QIC's development is centred on a new Town square and Realm that are modelled on a medieval town square plan. 'The creation of a world-class town square with quality retailing, contemporary dining, as well as generous public space for an integrated mix of activities will re-energise Ringwood's urban centre,' says QIC Global Real Estate managing director Steven Leigh of the project, which includes a 1000 sq m public library, a collaborative business hub, a Centre for Regional Knowledge and Innovation and an integrated transportation hub on the Maroondah Highway.

Wrapped by a double skin facade consisting of strip window glazing and an impressive glass reinforced polymer lattice frame, the Realm's design creates a sense of arrival in Ringwood. 'We employed the use of high quality tactile finishes, natural stone, patterned detailing and soft lighting to reflect the natural beauty of the surrounding region,' says Buchan Group principal Grant Withers, referencing Eastland's proximity to the Yarra Ranges.

More than 350 specialty brands now reside in the 131,000 sq m space, while the public gardens and landscaping around the Town host outdoor cinema screenings and music concerts and public art.
INFORMATION
For more information, visit the Acme website (opens in new tab) and the QIC website (opens in new tab)