Casa Morandi, by Studio d'Architettura Iosa Ghini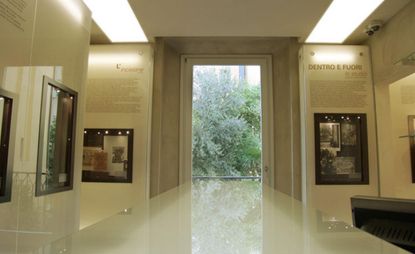 (Image credit: Studio d'Architettura Iosa Ghini)
Casa Morandi - a tiny museum in the centre of Bologna - has recently opened its doors. Housed within the very apartment where the twentieth century Italian painter Giorgio Morandi lived and worked for most of his life, the space has never before been open to the public.
Re-designed by architect Massimo Iosa Ghini, of Studio d'Architettura Iosa Ghini, the adaptation of the 250-square-metre Renaissance style space was sponsored by both Comune di Bologna and Unindustria Bologna - whilst the museum itself is run under the auspices of the Museo d'Arte Moderna di Bologna
Known for his early minimalist approach, Morandi's spare and outwardly simple paintings of day-to-day objects play on recurring domestic themes, with ceramic still lives, bottle tableaux and kitchen utensil scenes featuring frequently. Painting intricately and methodically, Morandi's repetitive approach and pared-down use of colour only pays testament to his unwavering artistic discipline.
Paying Homage to this hue-based element of Morandi's work was essential in the re-design of the Casa Morandi, as Iosa Ghini explains 'The concept of the renovation followed the chromatic preferences of the artist by using ochre, brown and grey tones, and at the same time using contemporary materials like resin'.
Featuring smooth stucco walls in hues of soft beige rendered with the cross tiling technique, 'spatolato nuvolato', Iosa Ghini has complimented the effect with a light ochre finish on the epoxy resin floor.
The reception and exhibition areas, both elegant and modern, employ extra-clear tempered white glass on the surfaces, whilst lacquered aluminum boxes display Morandi's work.
Juxtaposed with several rooms that appear exactly as they did when Morandi inhabited the space, the modernised areas are compelling in their contradiction. The studio-atelier is a particular triumph of restoration on the part of Iosa Ghini - it's almost as if Morandi may walk in at any moment, pick up a brush and start painting. One can only wish.
ADDRESS
Casa Morandi
via Fondazza, 36
40125 Bologna
Receive our daily digest of inspiration, escapism and design stories from around the world direct to your inbox