Designed by MVRDV, Casa Kwantes has curves in all the right places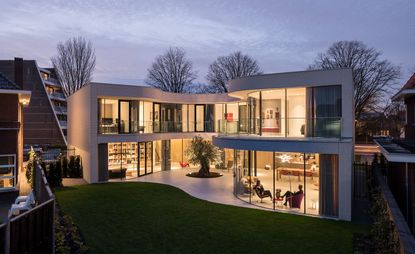 (Image credit: Ossip van Duivenbode)
He wanted to build a huge family home from the ground up; she wanted to stay in the 1930s enclave of Schiedam, just west of Rotterdam, where their teenaged children had grown up. The city wanted the design to reflect the red-brick vernacular architecture of the neighbourhood. What's truly amazing about Casa Kwantes is that everybody won.

Avoiding the pitfalls of 'design by committee', Jacob van Rijs – a founding partner of local practice MVRDV and a friend of the family – instead devised a new template for Dutch urban living. The double plot, the site of a former hospital just 200m from the family's previous home, has an unusual angular footprint that van Rijs used to everyone's advantage. Working within municipal regulations, he crafted a street facade of horizontal brick in chalky white. As far as anyone on the pavement is aware, the story ends there.
Take an interactive tour of Casa Kwantes

Yet the south-facing rear of the house, with banks of full-height glazing, adopts a fluid shape that caves in on itself, like artisanal blown glass. This focuses sightlines inward, so every room has a visual connection to the rest of the house – and to the squat olive tree planted in the courtyard, a nod to one owner's Greek heritage. But the strategic concave shape means these windows welcome the sun throughout the day without welcoming attention from the neighbours.

'The romantic ideal in this part of the Netherlands is a red brick retro 1930s villa,' says van Rijs. 'We wanted to get out of that. The size of the plot gave us the freedom to do that.' The rooms extend back toward the 'business end' of the house, where wall-to-wall wood cabinetry conceals kitchen appliances, loos, storage and a small entrance. You'd think the sun's glare would send residents into the depths of the house on sunny days, but cantilevers sweeping over each level offer shade. They also mean the family can live outdoors on covered terraces almost year-round. And in Rotterdam, that's anything but vernacular.
INFORMATION
For more information, visit the MVRDV website