Building creative careers: Mexico City's Centro unveils new campus
Mexico's Centro unveils new campus in the heart of the city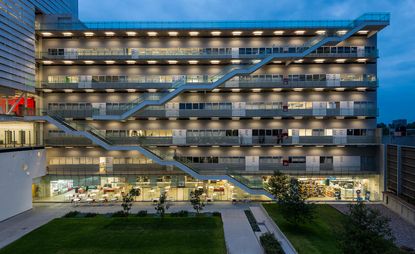 (Image credit: Centro)
For the last decade, Centro – the school of higher education dedicated to creative careers in Mexico City, founded by Gina Diez Barroso de Franklin and Abraham Franklin – has focused on preparing its students for jobs in design, communication, marketing, film and digital media. 'The reason we called it Centro is because we thought that the school has to engage with culture, with society in general,' says general director Kerstin Scheuch.

When they saw that Centro was outgrowing its campus, they commissioned one of the country's biggest architectural talents, Enrique Norten and his firm, TEN Arquitectos to build over a 5,600 sq m site on Avenida de los Constituyentes.

Norten designed 26,000 sq m of space, including 2,500 sq m of green space and a 450-seat auditorium. Stunning views surround much of the site. The centerpiece of the campus is an expansive 9,687 sq ft staircase composed of black granite and white resin and decorated with the floral swirls of Dutch-born, Mexican-based artist Jan Hendrix. Norten intended for it to be a gathering place.

'It's where people move to bring them into that space, to energise the space, for young people to meet each other, to see each other, to hang out,' explains the architect. Rather than hide the campus' stairs and pathways, Norten wanted the students and teachers to move about freely, adding two staircases that also accentuate the structure with their zigzags. 'I wanted people to really have to go through the whole building to get to different places. So they could use those stairs, they could use these stairs, and move to other places – you can discover the building in many different ways.'

The structure was built according to Leed platinum certification standards; 50 per cent of all the building's areas are naturally ventilated, thanks to perforated metal walls, while 50 per cent of its construction materials were sourced locally. All of the rainwater is reused, and all of the residual water is recycled. Additionally, 25 per cent of consumed energy is solar generated.

Diez Barroso de Franklin believes that good design impacts productivity, subsequently furnishing the school's classrooms with brands like Kartell, Technica and Vitra. Desks made by the latter have the capability of moving throughout the classrooms, while Kartell chairs provide ergonomic seating. 'There have been studies that if you work on places like this with good furniture, you work better,' she said.

Although the school is for-profit, scholarships will be given to any student who proves he or she is qualified. 'It's all about giving them an opportunity,' says Diez Barroso de Franklin.
INFORMATION
Photography courtesy of Centro